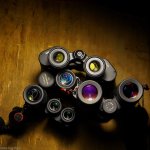 After long and careful observations, over the years, during which I tried dozens of binoculars, I ended up with a setup of 4 binoculars. Even so it seems to me a lot of pairs, because I don't want to collect them but to use them as intensively as possible! I bought a pair of binoculars from each "big" brand that each one excels at different specific applications. They all make a team of four binoculars that cover a wide spectrum of situations and visual applications.
LEICA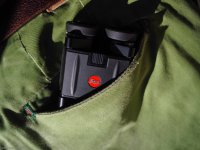 The Trinovid 8x20 is the perfect pocket binocular for me. It is a design object in itself and a technical curiosity due to its extremely small volume.
History selection:
I also had the old version in leather 8x20 BC and the new version 10x25 BCA. I chose this Trinovid 8x20bca instead of Ultravid or Curio because it is the smallest and cheapest of them, but optically not much below them. For a pair of binoculars used only occasionally for me, a higher price is not justified.
NIKON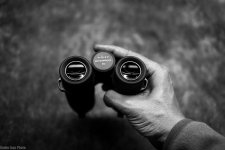 Monarch HG 8x30 is compact, comfortable, durable and beautiful binoculars. It's my grab and go binoculars. It also renders a very beautiful image.
History selection:
This M HG made me sell my Zeiss Victory Pocket 8x25 because it does not have a much larger volume, but it is brighter, more immersive and more comfortable than the VP.
It also replaces the porro brother Nikon EII 8x30, being much more comfortable to look with glasses, more compact and resistant to adverse weather conditions. But the main reason for giving up the E2 is the purchase of another porro binoculars (read below)
ZEISS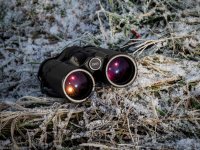 Victory SF 10x42 is my best optical and mechanical binoculars. It is amazingly stable in the hands. It is my reference binocular when it comes to resolution. If I had to keep only one pair of binoculars, this would be the one! That's all about him 😀
History selection:
Very close was the Swarovski EL Swarovision 10x42. But the SF gave me the impression that it has a better center resolution; The image is more immersive due to the much larger visual field, even with the possibility of seeing the entire FOV at a single glance very comfortably without moving the head. Parasitic reflections better managed, better ergonomics, impeccable focus.
SWAROVSKI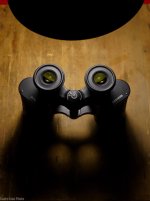 Habicht 7x42 is my night binoculars. I remind for those who still don't know: these are the binoculars with the highest light transmission in the world. Also the clarity of the image is top notch!
If Habicht have had the larger field of view, would have paid for it with a smaller transmission, and the personality of these binoculars would have been canceled and I would not have chosen it.
History selection:
It had to be porro for the spectacular 3d effect. So from the start many famous roofs fell out of my choice.
When it comes to light transmission, Habicht 7x42 does not have many competitors. I have tried quite a few bright binoculars and only the Steiner Nighthunter 8x56 is a little brighter (not by much), but much bigger .
This Habicht 7x42, even though it has an extremely small field of view, is the only binocular that made me part with the superb Nikon E2 8x30 (and the old Nikon E 7x35) for four main reasons:
1 That it is a little more comfortable to look with glasses than E2
2 That it is water resistant, an aspect that makes me use it in the mountains or in any conditions much more often than E2
3 That it has a slightly better definition (contrast) than E2,
4 And obviously, it is much brighter than E2, day and night.
However, I must say that E2 has a much more carefully developed finishes than Habicht, and has an enormous AFOV!
Comparative with Habicht 8x30 (new), the 8x30 version is also very bright, but it is, in my opinion, the weakest of the Habicht series. The very small 12mm eye relief made it unusable with glasses for me. Even E2 is clearly more comfortable with 13.8mm eye relief, and Habicht 7x42 it is clear more comfortable with 14mm. I have seen glare in the Habicht 8x30, so the resistance to glare is extremely weak comparative with Habicht 7x42.
Last edited: