Always finding a way to go off topic...

Annoyingly couldn't get this report out quicker but I'm getting it done now.
May 28, 2022, Saturday
Having heard of the news that there was a once in a lifetime bird in the area of Sandwich Bay, I was ever keen to travel and see it. Although by the evening of the 26th, it was no where to be seen; until it popped up at Worth Marshes, where over 20 consecutive reports flooded the "Mega" filter throughout the day. I managed to convince my dad to drive me there in the high hopes that I would see the bird. I was also aware that there was a red-footed falcon around, although I couldn't pick it up whilst I was there. Arriving there, I was happy to see quite a few hirundines around, probably 7
House Martins,
20+
Swifts
, and probably around 5
Swallows
. The RSPB staff were incredibly helpful with directions, and I made my way around to the small pool where some people were scoping views of a falcon over the Great Wood. I'd left my scope in the car, assuming that the distance was not that great, but it was. In hindsight, I probably should've walked all the way around to the beginning of the Great Wood, as that's where the bird had been performing incredibly well the day before. Soon, my dad arrived with the scope, and I instantly picked up the bird. Dark underwing coverts, notch in the tail, larger than the 2
Hobby's
that had joined it in the air, and noticeably longer winged, and lacking the red trousers which are consistant with a Hobby. The woman next to me picked up the
Red-footed Falcon
, but I couldn't get on it at all, no matter the directions. Long story short, the bird performed well over the Great Wood, : stooping for dragonflies. It did come over us once or twice, but the pictures I got are not worth posting here. A
Raven
soared over and that rounded off a great day, and 2 more lifers for me.
May 30, 2022, Monday
I couldn't resist going back again, as news on BirdGuides as well as Twitter and Facebook, was that the bird showed very well in a bush. Except it wasn't in the bush when I got there. This time we had to do the 20 minute walk to Pinnock Wall, which was enjoyed with good views of
Lapwing, Redshank, Pochard, Oystercatcher,
and a backtrack of
Common Whitethroat, Sedge Warbler
and
Linnet.
Arriving on Pinnock Wall, there were a lot of reeds in the way, but eventually found a place where I could view the bird without any obstructions. It sat on a post, and we waited for it to give us a show. It sat there, the
Red-footed Falcon
flew close to it and landed on the post next to it, allowing a rare opportunity to have an
Eleonora's
and
a Red-footed falcon
in the same scope view. But all the birds just sat there, and sat there, and sat there. One of the
Hobby's
had a brief flap around, but it didn't prompt any flight from the star bird (s.) And we waited... At least 60
Swifts
had gone over with a mix of
Sand and House Martins,
along with some
Swallows,
with both species of hirundine numbers being about 15. And we still waited... a
Great Spotted Woodpecker
made a couple of flypasts, and a brief
Green Woodpecker
flew into the Great Wood. To sum this day up, it was cloudy the entire time I was there, it then rained as we got to the car, and then surprise, surprise the sun came out and all of the falcons apart from the
Red-foot
showed ridiculously well.
1 June 2022, Wednesday
A much anticipated day for me, as my dad had generously forked over the money to allow me to get the Canon EF 100-400 f4.5/5.6 L IS II USM lens, which I had hired twice and got some good shots with. Such as this one, also quick quiz, this bird is a triple falcon hybrid, guess what species of falcon are in it.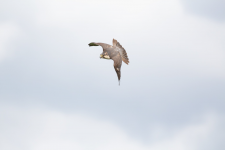 I also have some other pictures such as this
Blue tit
,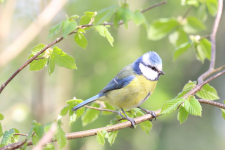 which I thoroughly enjoyed. Needless to say, when I got this lens, I wanted to get back down to the
Eleonora's
again and attempt to improve on my photos.
2 June 2022, Thursday
On the journey to Worth Marshes, I counted 34
Common Buzzards
all along the M2 and A299. Additionally counted 7
Kestrels,
and one
Red Kite.
We arrived in the field at around 1:15, so a little late, but it was the height of warmth in the day, and it was pretty warm. On the way we had some perplexing views of
Cloud Iridescence
, which I was convinced was just the windshield, but upon stepping out of the car, the odd pink and blue was still there. There must have been some very small ice particles in the air which was causing this strange phenomenon. Before heading out, we had some lunch, some sandwiches, almonds, oat cakes, and veggies were consumed before we made our way around. I had a go at the
Swifts, House Martins and Swallows
but as soon as I got them in the viewfinder, they would zip out of view, and I lost them 90% of the time. The frustrating side of fast Bird in Flight photography. Making our way around, a falcon was high overhead, and I didn't realise it at the time, but it was actually the
Eleonora's Falcon,
but I was slow on it and it drifted back towards the Great Wood. A group of 30 or so birders were stood near the pathway which led to Pinnock Wall, and upon asking, some very kind people pointed out the bird over the willow tree which it seems to be favoring at the moment. It was soon joined by a
Hobby
, which gave excellent views. Over the next hour, the bird performed very well, sometimes right overhead, although often a little high up. Unfortunately, a mixture of heat haze and camera shake has affected my pictures, as well as some other peoples. Here are my attempts/favorite pictures.
.
I met a couple of birders who were very kind and talkative, and it was great chatting to them. I headed, off and I checked my phone only to see that the
Golden Oriole
had flown out of the car park, and into the Great Wood. Unfortunately it had buried itself into the woodland, but I could hear it singing; it sounded like a very rich
Blackbird
, and very tropical esc.
3 June, 2022, Yesterday.
Adding on this day as it was pretty exciting. Headed up to Shorne Woods, as Elmley was closed, so we headed off around the green trail. Nothing much happened, until about a quarter of the way around, where I picked up a call that was like a zitting call. It was like
zzzp, zp,zp,
but it was very quiet. It was completely the wrong habitat for a
Zitting Cisticola
, so I assumed it was a
Spotted Flycatcher,
as I had heard them before at Rainham Marshes. Continuing on, I reached an area where there was some felled trees, and a very large oak tree was to my right. I quietly walked towards the pile of logs, and I could hear the call of some young birds, so I steered away, and I noticed a small bird fly quickly into the oak tree. Got the camera on it,
Lesser Spotted Woodpecker!
As soon as it saw me it flew further into the oak, and I saw it twice more before it dropped into the trees behind the oak. Shortly after, a
Greater Spotted Woodpecker
flew in and then continued on as it yelled at me for snapping it's picture. Nothing much occurred, and I reached an area with some taller trees, and I heard my first
Treecreepers
of the year. And then a massive eruption of screeching exploded from the giant oak tree adjacent to where I was watching the
Treecreepers.
It was a pair of
Red Kites,
clearly on eggs or young, although they were incredibly high up. Heading onwards, I head the
zzzp
ing again, and it was much clearer, but however much I scanned, I couldn't pick it up. And that was that for the day.
In conclusion, over a week, I picked up 4 lifers, those being:
Eleonora's falcon, Red-footed falcon, Golden Oriole, and Lesser Spotted Woodpecker.
Whilst typing this, there have been 2
Stock Doves
, 6
Blue Tits,
5
Great Tits
, and a
Woodpigeon almost hit the window.
Many thanks to all who made it to the end of this very long report.
Ev