A 7.5 day tour of Puerto Vallarta and San Blas
Like many of you, this has been a difficult year with COVID-19 reshaping every facet of our lives, including our passion for bird travel. I was fortunate to be able to visit Western Mexico for a week trip just before Xmas and would like to share my experience.
As a PSA, Mexico has been one of the countries most encouraging of international tourism, not requiring proof of negative COVID PCR testing and merely doing temperature screening. At the time of my visit there were no travel checkpoints or access closures to any sites. Puerto Vallarta is keeping businesses open more broadly than in non tourist regionto protect tourism dollars.
I felt a responsibility to do my best to minimize my potential risk to locals, including only ordering takeout and wearing masks consistently, but clearly nothing is foolproof. With rising case rates and many Mexican states now elevating their semáforo (traffic light) risk level to red, it is advisable to wait for the current wave to recede. (I am fortunate to be able to self isolate at home for two weeks on return, as is law where I live).
Okay on to the fun stuff. This was my fourth trip to Mexico having previously visited Cabo San Lucas, CDMX, Oaxaca and San Cristobal, Chiapas, as well as Yucatan so the goal was very specific to see the endemics and specialities of the region. Of course, along the way I recorded a broad variety of 271 species in 7.5 days of birding, including plenty of familiar North American wintering species joining the residents. While most of this route is well travelled, perhaps some new sites to offer for some of the harder to find species.
Day 1
Calle de Gardenias, Puerto Vallarta
A flowering tree-lined road heading up the mountain from a condo development, this is a great site to kick off your trip right in Puerto Vallarta as it hosts a reliable territory for Golden-crowned Emerald. It is also home to a great species mix of woodpeckers, tanagers, buntings and orioles. Highlights here were San Blas Jay and Yellow Grosbeak, but unfortunately the only hummers seen were Broad-billed and Cinnamon.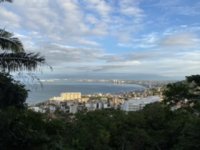 Rusty-crowned Ground-Sparrow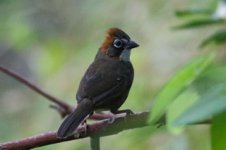 Camino de Bascula
This is a narrow dirt road halfway between Boca de Tomatlan and El Tuito where I had noticed on eBird a smattering of records of Gray-collared Becard. This is a fairly uncommon North Central American regional specialty and one of my hopes for the trip. Amazingly, right after I parked by a cattle guard, I lucked into a male nearly right away at mid morning. Also vocal seen circling overhead were Military Macaws.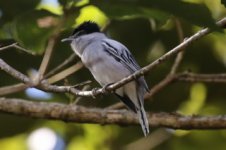 Camino Provincia
The star bird here is a Sparkling-tailed Woodstar that in Jan-Mar 2020 visited a stretch of flowers around 8 km down the road past a small settlement. No luck here with this species, but I recorded my only Plain-capped Starthroat and Gray-crowned Woodpecker of the trip, a flock of Black-headed Siskins and another pair of Gray-collared Becard. Very birdy road even at midday.
Russet-crowned Motmot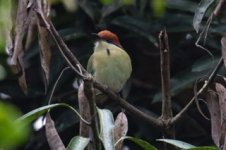 Vallarta Botanical Gardens
This is a great site for photographing both San Blas Jays and Yellow Grosbeak, which attend the feeding station by the restaurant. Also present: West Mexican Chachalaca, Golden-cheeked Woodpecker and Yellow-winged Cacique. A more thorough search of the gardens can yield the elusive Mexican Hermit, but again the Cinnamon Hummingbird was the only species visiting the restaurant feeder during my stay. The pines host nest sites for the macaws.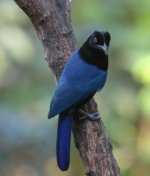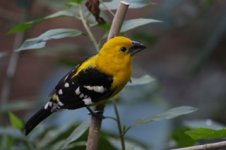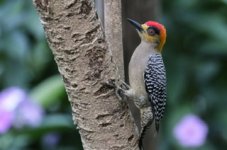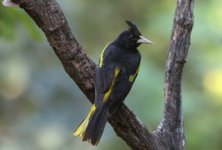 La Estancia
In the afternoon, I did the three hour drive to San Sebastián del Oeste, stopping briefly in the evening for Lilac-crowned Parrot in the scrub just east of town. While keeping my ears open for the (sadly declining) parrots, I picked out a female Sparkling-tailed Emerald with its showy white patches extending from the flank to the rump. A second sighting of this species here for the month, although later searches to relocate it for a photo, were unsuccessful.
Hooded Oriole