Eight days ago Carrie and I ended fifteen years of discussion and finally made the move to Australia. During that time birding has hardly been the priority, but one of the nicest things about Australia is that birds are plentiful and easily seen. We decided to base ourselves in an AirBnB in Queenscliff, just to the north of Manly - an eighteen minute ferry ride east from from downtown Sydney - and the gateway to the Northern Beaches area that runs up the coast from the mouth of Sydney harbour for 30-odd kilometres.
Manly and Queenscliff
Birds seen from the flat's terrace included flyover
Sulphur-crested Cockatoos
- stately or raucous, but nothing in between,
Rainbow Lorikeets
shrieking through at terminal velocity, hipster-goateed
Australasian Ravens
whingeing like an seven-year old denied an ice cream and small purposeful flocks of the silent and much maligned
White Ibis
. An
Osprey
drifted over on a couple of days and
Welcome Swallows
seem to crop up all over the place.
Closer to Earth, an
Australian Brush Turkey
loafing halfway up a tree was the first bird I photographed in Australia. The only bird I know whose tail is flattened perpendicular to the ground instead of parallel, they spend most of their time on the deck, so seeing this one ten feet up was something of a surprise.
​
Noisy Miners
- dusty-grey honeyeaters with a bright yellow bill and black mask are by far the commonest urban birds, and I was much taken withe the dashing pair of
Pied Currawongs
that were clearly nesting (or at least planning to) somewhere nearby, and gave both great views and their distinctive three pat call throughout the day. All-black except for a white rump, wing patches and under tail coverts and a striking golden eye, these large-billed australasian "crows" are in the same family as the commoner, flashier, and more musical
Australian Magpies
. The morphologically similar
Grey-backed Butcherbird
is a little smaller and far less obtrusive and has an obvious hook to the similarly-long bill.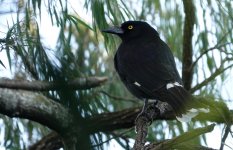 ​
While here I found time for a couple of walks to explore a little. I found a handful of
Grey Teals
, and a
White-faced Heron
on Manly Lagoon, along with a pair of
Wattled Lapwings
, whose high-pitched "creek cree creek crick crick" calls were always among the first of the dawn chorus. A pale-necked immature
Australasian Darter
headed out to sea and twenty or so
Little Black Cormorants
headed the other way up the lagoon. Thirty or so
Red-billed Gulls
loafed on Queenscliff beach close to where the surfers were communing with the ocean and several immature
Australian Gannets
drifted into the bay in search of a meal, but it was the two
unidentified albatrosses
shearing offshore that really got my blood pumping. With white underparts and slaty upperparts they were either Yellow-nosed or Black-browed Albatrosses, but were always to distant to allow my to see any colour on the bill, and this frustrating non-ID will likely stay that way until I can get a scope.
A few minutes watching from the end of Queenscliff headland produced a number of adult
Australian Gannets
, including an impressively plunge-diving adult, and another
small
albatross sp.
heading distantly north, and more distinctively three
Humpback Whales
blowing and surfacing as they made their majestic way north for the austral winter. A second visit a few days later revealed another couple of
small
albatross sp
and a pair of white-phase
Pacific Reef Egrets
that came in off and headed inland along the southern edge of the headland.
Cheers
Mike
Last edited: