Many thanks gents. It's a huge change since I was born in Hong Kong and spent my whole career there.
It's certainly been an interesting first few days. Notable firsts include:
First vegemite sandwich - an iconic moment in my cultural history after loving the 1980s Men at Work song
Down Under
for what is still probably my favourite lyric in any song:
Buying bread from a man in Brussels.
He was six foot four and full of muscles.
I said "do you speak my language?
He just smiled and gave me a vegemite sandwich.
First parking fine - for failing to understand the impossibly complicated Sydney parking regulations and signage - a bargain at £80
First random drug test - by the Mona Vale highway police
First random police stop two days later by the Chatsworth police for "driving a strange route" (struggling with google maps navigation in a strange city will do that to you)
First opportunity to use 100% renewable electricity in the home - now we've found a ground floor flat in Cremorne its great to have this option.
First home with a garden since 1993 - the dogs are loving it!
Anyway ... back to birding. Three nights in an Airbnb in Avalon Beach allowed time for a couple of walks around the beach area and along the creek behind it on two scintillating chilly blue mornings.
I enjoyed finding a group of twenty-odd
Sulphur-crested Cockatoos
foraging on the turf and snuffling in the sand for fallen
Norfolk Island Pine
seeds. A hopeful look out to sea revealed the usual smattering of
Australian Gannets
and another distant
small albatross sp
., and while I could not find any whales, we did have brief views of a school of
Bottle-nosed Dolphins
not too far beyond the breakers.
I was entertained by a couple of
White-faced Herons
that flew out over the surf (and 30-odd surfers) and then perched high on the cliffs above the wonderful seawater bathing pool set in the wave-cut platform at the base of the cliffs on the southern side of the bay. I was distracted from them by a young
White-bellied Sea-Eagle
that drifted back and forth before being chased away from the cliff face by an irate and highly acrobatic pair of
Peregrines
.
Walking back through the dunes I found a female
Superb Fairy Wren
and several
White-browed Scrubwrens
and Silvereyes on the back side, and the trees along the creek produced
Red-wattled
and
Little Wattlebirds.
The latter were my bird of the day - elegant in their fine silver pin-striping as they guarded their favoured
Beachside banksia.
along with the (invasive)
Common Mynas
and very talkative
Noisy Miners
. A
Pacific Black Duck
waddled its way up the middle of the creek, and either same or another pair of
White-faced Herons
- one of which showed very little white foraged in the stream and in the long grass in an uncut meadow.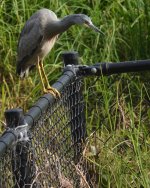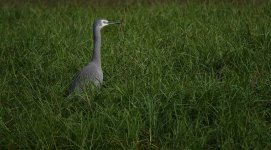 As I headed home a
Laughing Kookaburra
keeping watch over the basketball court sat nicely for pix.
Cheers
Mike
Last edited: