I just chanced upon these beauties, I would be interested to know if anyone has tried them yet and would be willing to share their experiences or thoughts?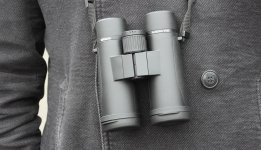 We have been fortunate to take a look at Opticron's new flagship #binocular, the Aurora BGA VHD.
Available next month in both 8x42 and 10x42 models, we believe these to be the finest binoculars available for under £1000.
Yes, they really are that good!
Featuring an impressively wide field of view of 8.1° (8x42) they are just the right mixture of weight and balance coupled with superb optical quality.
Key features include:
• Compact, lightweight roof prism design
• Nitrogen gas filled waterproof
• VHD optical system with field flattening technology
• High quality ED glass objective system
• Long eye relief for spectacle wearers
• Close focus to under 1.9m
• Made in Japan
• 30 year guarantee
Click the link below for further details:
Opticron Aurora BGA VHD 8x42 Binoculars are designed on a new platform with an entirely new optical syste. This Opticron Aurora BGA VHD 8x42 binocular is one of the very best lightweight pro field binoculars available today.