I purchased a pair of E2s about 3-4 years ago out of Japan. Loved them! I sold them not too long ago thinking that I had other binoculars that made them redundant. I soon discovered that I really missed them. It's hard to describe the E2 experience. Are they perfect binoculars in every respect?... No, but they excel in enough categories that they make you keep coming back even when there's a pair of 'alphas' sitting on the same table next to them. I was lucky enough to snag another pair here on BF just recently... I now feel 'optically whole' again! ...thanks again, Brock!
I use the E2s without glasses. Because of my facial features, I have to press the E2 eyecups into my sockets just a little in order to get the full FOV (which is amazing!). Not a big deal... the eyecups are fairly soft and comfortable. I can also roll the eyecups down and lightly rest the eyepiece just under my brow and get the same, full view but it's a little bit more finicky. Ideally, for me, I'd want something in between... maybe an eighth inch longer than with the eyecups rolled down. Enter my solution... I went to the local hardware store and found a couple O-rings that are a shade over 1/8" thick and the appropriate diameter to sit just inside the edge of the rolled down eyecups. I glued them on with a very small bead of black 3M 5200 marine adhesive. 5200 is crazy strong so not much was needed.
Beware
... the downside to using 5200 is the O-rings will
never
come off without tearing the eyecups! If a person wanted to try this and make it reversible, a less 'tenacious' adhesive could be used. I was careful to keep the adhesive only under the contact point of the O-ring so that the eyecups can still be unfolded to their normal position. This mod does preclude the use of the binocular with glasses though... so there's that. But for me, it's made the binocular almost perfect!
I would not have made this mod had I not found and ordered replacement eyecups online. I wanted to have a 'stock' set on hand should I foolishly decide to sell the E2 down the road. Search "Nikon 326B" online... I found them on Ebay out of Japan for $9.99 ea. +shipping. The 'O-ring eyecup' is very comfortable and makes eye placement almost foolproof for me. I can achieve that wonderful full FOV with zero effort now. Oh, and the other benefit is the normally loose ocular cover fits nice and snug with the eyecups rolled down... win-win!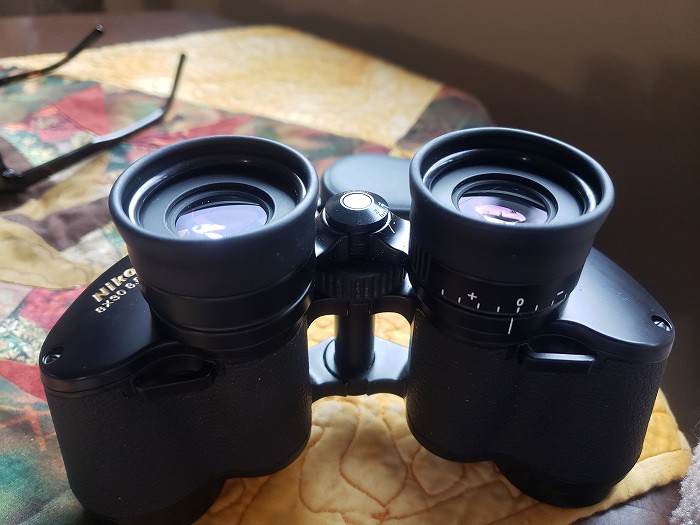 Last edited: