I directly compared
Nikon Monarch HG 8x30 (M HG )
with
Nikon Monarch 7 8x30 (M 7)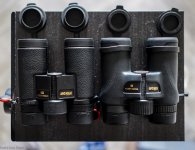 Mechanics and ergonomics
The weight and dimensions are very similar. The focus wheel moves similarly and very accurately and pleasantly in both binoculars, also ergonomics. But this is where the similarities between them ends. So, M HG finishes are at least a class above over M 7. The coating is different: prisms of M HG has purple coating and M 7 green coating, and M HG objectives has green coating and M 7 blue coating. It is also noticeable that, at the level of the exit pupil, there are stronger reflections in M 7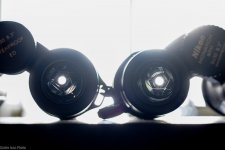 Optical performance
The resolution on the center is better at M HG (tested on the resolution chart)
The resolution on the edges is also better with M HG. As an extension of the clarity, they both have about 75% of the FOV, but the last 25 percent of M HG are not so blurred compared to the center, still being able to discern details. But at M 7, the difference in clarity between the center area and the edges (last 25%) is very very big, on the edges you can practically no longer discern any detail.
Contrast is noticeably better at M HG
The brightness is a little better at M HG
Field distortion is lower at M HG
Glare resistance is obviously better at M HG. In certain situations, even with not very strong light, only through M 7 was there a foggy crescent on the edge of the FOV that decreased the contrast of the image. It is also observed in M HG, but only in much more extreme situations of strong lighting.
The rendering of the white color is a bit pale pink in the M 7, but visible only in comparison with the M HG, which has a more natural rendering.
Chromatic aberrations are similar in both binoculars and present on the edges.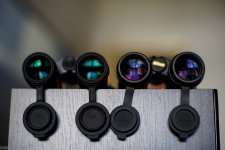 Conclusions
The optical performance is better in all chapters except for chromatic aberrations, where they are similar. In my opinion, the differences are due to the better coating and the better quality of the glass of M HG. Even they are similar in size, the quality of mechanics and finishing materials is better in M HG.
Monarch HG 8x30 is clearly superior to Monarch 7 8x30.