Hi There,
A good day to you all.
I have purchased a pair of NL Pure 8x42 in this Sep and am looking to see if anyone has had similar experience.
I have attached two pictures where a small portion on the edge appears to be not coated or perhpas I just could not identify via eyes very precisely and my assumption was wrong. I have been using Swarovski Lens Cleaning kit for cleaning and am 100% sure this symptom was observed from my day one. By the way, this symptom does not provide any nagative impact while observing.
Your random comment, feedback and thoughts are appreciated. Thanks and you all have an amazing day.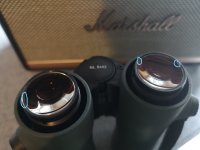 Cheers,
Green
Last edited: