Well-known member
Supporter

Last October I was able to purchase a slightly used Zeiss Victory SF 8x32 from a fellow bird forum member for a good price. I already own an 8x42 SF, which I bird with regularly, and was curious how its smaller sibling would behave. When it arrived, I found I liked everything about it initially,
except
for the usable eye relief, which prevented me, ever so slightly from seeing the entire image circle with a crisp field stop with my glasses on. Nonetheless, its relative size to the 8x42 SF, excellent balance and optical performance, allowed it to fit right in, and I started using it on rotation, especially when I was carrying a scope, as to more easily one hand the binoculars.
I also own a Nikon Monarch HG 8x42, that has served me well, but it too is just shy of the necessary eye relief for me. So the SF32 ended up in the same boat with the Nikon as one of those otherwise excellent tools that was missing a desired, aesthetically pleasing visual component: A clear view of the entire field, with a crisp black edge, instead of an image circle bordered by an out of focus grey ring, which was the foreground eyecups occluding the edge of the true field.

L-R: Zeiss SF 8x42, Zeiss SF 8x32, Nikon MHG 8x42, Swaro EL32, Leica Trinovid HD 8x32. Of these 5 binoculars only 3 show me an unobstructed FOV.
Does this prevent me from finding the bird? Nope. Its just a nagging reminder that eyeglass wearers are often the outliers in the 'one size fits all' world of binocular design, and are sometimes completely shut out from using, for all practical purposes, an entire range of well loved binoculars due to low eye relief (Nikon EII, Leica Ultravid HD+, Swarovski Habicht, etc).
I've taken note of forum members that wear eyeglasses, and what equipment works for them. Through trial and error (and returned product) I discovered that I often need just a little more eye relief than they do, as I found I could not see the entire FOV of several binoculars that they were enjoying with eyeglasses….. (Zeiss 8x32 Conquest HD, Zeiss 8x32 Victory FL)
If you don't wear glasses when using binoculars, consider yourself very fortunate, as a vast array of new and used quality bins await you. If you do wear eyeglasses with binoculars, the options are greatly reduced, and for some folks like me, what fits out of that limited selection is an ongoing hit or miss proposition.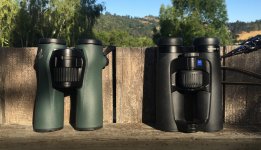 Enter the NL series. I had been rather set against the idea of another, increasingly pricey purchase, and was prepared to just stop with the SF32, but I was curious if I could get a clean, un-vignetted presentation through the NL. And what I discovered was exactly that. For whatever combination of design parameters, the NL 8x32 fits me extremely well. I get the entire field, and the AFOV is perceptibly big and immersive. Perhaps it should be, as the eyepiece glass is 2mm larger than the Zeiss (25mm to 23mm) and the EL32.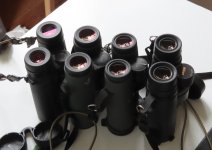 L-R: SF32, NL32, EL32, MHG 8x42. Note the extremely low profile of the eyecups and the larger diameter glass of the NL
The obvious criticisms that can be aimed at the NL are that it is big and heavy for an 8x32, and costs too much. So, besides it fitting me extremely well, did it offer any other performance advantages over the other binoculars in a similar size/class? And the answer is, yes, with a caveat.
I did a little comparative work with the likely competitors: The EL 8x32, the former benchmark Swaro in that size that it is replacing, the Zeiss SF 8x32, it's newly minted competitor, and threw in the Nikon HG 8x42, because it is close in weight and size to the NL32.
I'll cut to the chase and just say that the most helpful performance advantage the NL 32 has over ALL the aforementioned binoculars is that it handles veiling glare better, in some cases dramatically better. But…. It comes at a price in terms of the annoying crescent artifacts that show up when direct bright light hits the lenses. Granted, they can be tilted away, or dealt with by sliding the binocular down a bit on the surface of my glasses, but they nonetheless show up in those conditions. Ironically, the Nikon MHG 8x42's show no crescents in the same light, but the overall washout of values by the sun across the entire field is much greater than in the NL. Don't take my word for it, try it yourself.
My testing for all this was done rather simply on the side of my house, standing outside the studio door, looking towards bright afternoon sun to a ridge about a mile distant, with a shadowed fence in the foreground. In the photo above you can clearly see the 'veiling glare' of the earth's own atmosphere in the shot, typical of summer afternoon light around here.
All I did was assemble the bins, aim them at the fence in shadow, then use my hand to block direct sunlight from hitting the objectives. As soon as the objectives are shaded, the crescents, if present, vanish, and the contrast across the entire field goes up. My judgement on performance quality is based on the amount of wash out perceived in direct light, as well as the level of contrast shift that occurred when I shaded the objectives. (the less shift in contrast, the better the performance, is part of my assessment) That's the subjective part, as the only measurement is through my eyes and my critical, comparative judgement, so you can take it all with a grain of salt. I would encourage anyone to try this yourself with the binoculars you own. I'm quite certain if you own several pair that they will not all behave the same.
Here's my notes on the test:
Looking west towards sun in bright, late afternoon. 6:20 - 7pm. Sun, ~25-30° above the horizon.
Binoculars tested: Swaro 8x32 EL, Swaro 8x32 NL, Zeiss SF 8x32, Nikon MHG 8x42
All binoculars, except Nikon, showed a bright crescent or lozenge of light at bottom.
The crescents, btw, can be ameliorated a fair amount by tilting the binocular up, or slightly sliding the eyepieces down my glasses.
El32: Strong veiling glare and crescents present; most washed out, and dramatic difference when shading objectives by hand.
Nikon MHG 8x42: Strong washout, but no crescents. Dramatic difference in contrast when shading with hands.
SF32: Veiling glare and crescent highlights. Washout of values is less than EL and Nikon, but still a noticeable contrast improvement by shading hand over objective. Plus, I can see the blue ring! (Really not an issue, but folks bring it up. )
NL32: . Bright, curved sausage crescents that can be tilted away to a great degree. However, the best at suppressing veiling glare over the entire field. In other words, there is still a greater range of contrast in the image in direct sunlight. When shading the objectives, the contrast shift is visible, but pretty quiet, which is noticeably better than the others.
At any rate, I've been testing my binoculars for veiling glare in this fashion periodically, and rather casually, because I'd rather just go birding than keep charts of this stuff, but I have noticed a few things.. which will probably require retesting to make sure it is repeatable….
-Smaller objectives tend to show more glare or other artifacts than larger objectives
-All my binoculars show some degree of it.
I am honestly puzzled by those that say there is no veiling glare in certain binoculars, because in the manner I've outlined I can see it in every pair I own.
However, the way they handle it varies quite a bit.
Here's a few more observations below to wrap this up.
Accommodation of view with glasses on:
El 8x32: Excellent view to the field stop
Sf 8x32: Field stop slightly occluded by foreground eyecups which produces an out of focus grey ring surrounding the actual image.
Nikon MHG 8x42: Field stop slightly occluded by FG eyecups
NL 8x32: Excellent view to the field stop. Crisp black ring and perceptibly 'large'
In the hand:
All of these binoculars are, imho, easy to use, to handle, and none of them break the bank with their weight. I will say that the ergos of the pinched cylindrical grip of the NL's work well for me, and I find them to be an improvement over the Els, with their "Thumbs go here" indents. The NL's flattened curves are more like danish modern furniture. They actually make the Nikon 8x42's feel a bit fat, and I've always considered the Nikon MHG a rather svelte bin, at least for an 8x42….. If one has very large hands, perhaps the NL's will not be as accommodating, as there is less surface area to wrap one's hands around.
Focuser, feel and speed:
The least smooth: El 8x32: Grainy and has different tension going one way than the other.
Nikon MHG 8x42: Smooth with some resistance
SF32: Smooth w/low resistance
NL32: Smooth w/low resistance
In the field, I noticed the NL focuser felt slower than my other binoculars, as it seemed I could keep dialing in a greater degree of sharpness/resolution in a somewhat leisurely manner, which perhaps would put some folks off. I tested all the binoculars by marking the turns of the wheel to focus from roughly 6 feet out to 1.25 miles, which is the high point on a ridge visible from the side of the house, measured in Google Earth. Here's the results:
From ~6 ft. to 1.25 miles:
NL32: >1.5 turns 540°
EL 8x32: >1.25 turns 495°
SF32: 1.25 turns. 450°
Nikon MHG 8x42: >1 turn. 390°
Zeiss Conquest HD 8x42: <1 turn. 300°
I threw the Conquest in there, as it has a reputation for fast focus speed, and in this group it was the clear winner, while the NL is at the other end of the pack. So far, it hasn't cost me a bird.
Conclusions:
-If you need extra eye relief like I do, these work great.
-If the SF32's had showed me the entire field, I probably would have stopped there, as the handling, balance, and focuser of the SF is excellent.
However….
The veiling glare test showed the NL to have a significant edge over the others on that point in spite of the crescent artifacts.
When regular birding, I don't think as much about a singular issue like veiling glare, because one is often looking in many directions, when on foot and moving around. I generally think of it as a temporary circumstance that compromises the view. However, If you were in a fixed position, looking into a low sun, especially over water, then addressing that would be more of a priority. In which case even the NL's crescent artifacts might be a deterrence.
I still don't like the crescent artifacts in the view, even if they can be dealt with to a great degree. These are also present in the SF32, btw. They are a distraction that one has to adjust for. Amazing to pick up a bin like the Nikon MHG and realize they're not there at all, even if the veiling glare
is
there in abundance….
Pros:
-Excellent accommodating, wide view for eyeglass wearers like me.
-Handles veiling glare better than others mentioned in test, substantially better than the EL32, and noticeably better than the Nikon MHG 8x42 and SF32
-Good ergos and focuser
-Crisp, contrasty image with good color.
Cons:
-Expensive.
-Crescent artifacts in eyepiece when looking towards light
-Slower to focus (for some)
-A bit large and heavy for an 8x32. However, something tiny, like the ultravid hd plus 8x32 doesn't work for me at all.
-Less ease of view than an 8x42.
Addendum(s)
All the binoculars I mentioned are good, worthy, well-designed tools for our purposes and enjoyment. The fact that some fit me better than others is my problem, My conclusions shouldn't be meant as any sort of universal condemnation of ones that don't work as well for me, or suit my needs.
I think the NL 32 binocular has forged a new, somewhat uneven middle ground, where the 32 objective size is equal in performance with the 42mm class, in daylight, with an excellent wide, flat field, and ergos, all the while approaching the size and weight of the 42mm, as well as its price. Its superb handling of veiling glare, is marred by the crescents that go with it, so that's somewhat of a mixed bag.
Is the NL32 the new 42? I'm not so certain.
I'll admit that the larger exit pupil of a 42 can make for an easier, more relaxed view. I notice it when I pick up the SF 8x42, which I would also point out gives me the entire field, and in terms of veiling glare, is on par with the NL32, with a much subdued manifestation of crescents to boot.... At retail, the SF8x42 is only $200 more, so the choice then is a densely packed, but skinnier, lighter, and slightly smaller NL32, or the full-figured, 5mm exit pupil and 42mm objective of the SF.
That's about all I got, and I realize this review falls short in many respects, especially when considering Henry's patient, analytical approach, Troubador's 'Nature, as viewed through... x' joyous descriptions, and Chuck's enthusiastic and thorough 'in the field comparative' methods, and all the other folks who take the time to share your experiences with these devices. The collective dialogue is what makes this forum a pleasure to read and learn from.
cheers,
-Bill
Last edited: