Hello all,
this female duck I can't really come to terms with. It has been present in a group of mallards (~ 20 birds) for the last couple of months.
Picture from autumn last year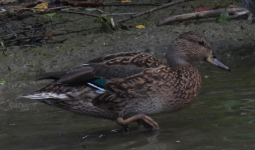 picture from yesterday
It is on the smaller side for a mallard. The most distinctive feature is the green specullum.
The rather open facial expression and the dark bill with orange patches at the base remind me somewhat of a teal.
The legs are rather dull orange-yellow. Otherwise it looks like a typical mallard.
During feeding the bird is continuously harassed by the more typical mallards.
The group is regularly visited by a drake Mallard / Pintail hybrid which is also harassed by the typical Mallards.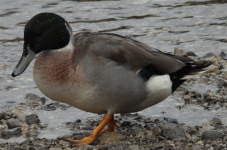 Could the female bird in question be a female Mallard / Pintail hybrid (supposedly sibling of the drake) or even a second generation hybrid fathered by the drake hybrid?
Does anyone feel tempted to comment?
Kind regards from Austria
Gerald
By the way this is what a drake Mallard / Pintail hybrid looks like in eclipse plumage: