Happy New Year to everyone,
Having only recently moved to New Zealand, I am still getting used to the proliferation of Mallard-Pacific Black Duck hybrids here, indeed seeing a 'pure' PBD is incredibly rare in NZ nowadays, and indeed I personally feel that 'pure' Mallards aren't too common in Christchurch either.
I saw these individuals today. I would have immediately called the individual in the left of the top photo a PBD had I seen it in Queensland (where there aren't many Mallards, nor hybrids), but here I'm much more tentative as I've heard that pure PBDs survive only in wild areas. Can anyone help with the any features in these birds that suggest that they are hybrids? Or might they be pure PBDs? Thanks!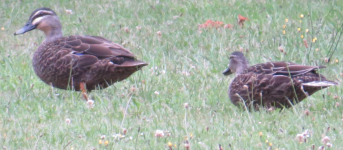 P