Hello
My son brought a bag of bird pellet(s) back from a camping trip in the Cuckmere valley in East Sussex, UK.
From the pale grey colour, I assume they're quite old. They were apparently found in a field, some distance from the nearest obvious perch. The habitat is wet meadow.
Aside from a large number of robberfly remains, there were all these bones. At first I took them to be small mammal but a couple of them look perforated on the inside so I'm not 100% sure now.
Possible species in the area would include sparrowhawk, kestrel, buzzard, carrion crow, rook, jackdaw, various gull species, and quite possibly barn and short-eared owls.
Can anyone shed any light on what kind of bones these are, or what kind of bird might have left the pellets?
Thanks.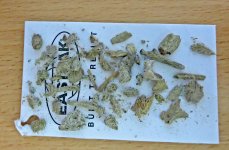 Last edited: