Hello,
Can anyone ID this bird of prey, on city outskirts today? Flying quite high unfortunately, so not very clear. Our best guess is a peregrine, but we don't see them often enough to be sure.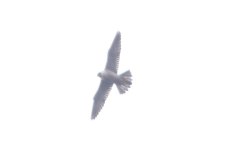 As a bonus question, we have an audio recording of a separate bird today (attached). It wasn't visible; I suspect it will be something very ordinary, but we're curious!
Thanks for any help you can give.