Over the last 2 weeks a conspicuous blurred spot is appearing in all of my photos.
I use a Samsung S9 Plus (12MP) on a PhoneSkope attachment to a Zeiss Diascope 85T*FL...20-75.
To try and remedy the problem I have thoroughly cleaned all lenses on both the scope and camera, to no avail. I have tried different picture sizes, speeds, aperture settings lighting, zoom settings etc but again have not solved the problem. There are no scratches or marks on the glass and I have examined the interior of the scope and zoom with a torch....and it's as clean as a whistle. I have taken photos without the scope and the blurriness goes so feel it must be the zoom lens.
The only thing I can think of is that water has entered the lens when i was caught in a downpour a few weeks back. But...the lens should be waterproof.
Below are a few pics to demonstrate. The blurry area is to the left above each subject and is worse in higher zoom.
Has any one experienced this and is there a resolution.....your help would be appreciated?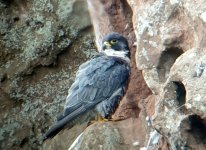 Last edited: