Respect animals, don't eat or wear their body or s
Hi all,
Summer Tanager is common here in Xpujil (Mexico) during migration, and I identified this one as such in the field. On the photos, though, it looks much browner than on all other photos of the species I have. I also noted than from a photo to another, this individual look greener/yellower (on the left) or more orange/brown (on the right).
It seems clear to me it is a juvenile. I'd like to be sure that is a Summer Tanager of did I miss something ? Is it possible to know if it is a male or a female ?
Thank you very much for your input !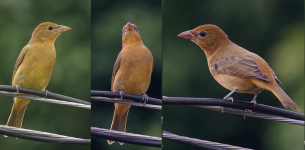 Last edited: