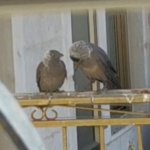 Screenshot from wobbly video taken on my phone of neighbours' balcony in building opposite 12 May 2021.
They made no
sound
that I could hear. I'm afraid I don't know the first thing about birds so in terms of
size
all I can say is smaller than a crow?!
One is larger than the other, I'm assuming male and female couple. The white 'lace' on top caught my eye!
Browsed through pics and tried a couple of apps but no joy. Any help welcome.