Hi all,
Hoping someone can shed light on these plovers. I saw this flock of about 100 plovers in Ishigaki on Maesato Beach last weekend.
These are tight crops of two different photos. I think this first image has a Kentish Plover (in the foreground, facing us), and then Greater and/or Lesser Sand Plovers? Is the one walking left and leaning forward a Greater Sand Plover?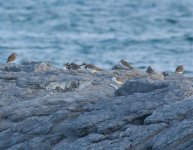 Again not sure about these - sand plovers maybe but what type? Both?
Feel free to edit these - any ID pointers would be very helpful as I've got very limited experience with sand-plovers.
Thanks,
Paul