Hello everyone,
I am new to the forum and definitely a noob to using a spotting scope for birding. A lot of my questions may be pretty basic so please bear with me!
Last year I purchased my first spotting scope+tripod+head combo after getting really into birding over the past few years. With some advice from other birders and my desire to not spend a fortune on all this since it's only my first time getting a scope, I ended up purchasing the Vortex Viper 20-60x85 angled (
https://vortexoptics.com/vortex-viper-hd-20-60x85-spotting-scope-angled.html
), The Birder tripod (
https://www.theaudubonshop.com/product/birder-tripod-legs-only/
), and the Manfrotto MHXPRO-2W head (
https://www.bhphotovideo.com/c/prod...o_mhxpro_2w_2_way_pan_tilt_head.html/overview
). This setup overall has worked pretty great! But the head has given me some problems.
The first issue I had was the pan lock stopped working. I would tighten the knob as hard as I could but the head could still spin freely. I reached out to Manfrotto and got this reply:
"There's a brake shoe that the knob presses against that fell out. It can happen sometimes if the knob is unscrewed too far. We're sending you the part, which should easily just pop back in."
When I got the piece and popped it in the slot, it worked good as new! But then the brake shoe fell out again at some point like three weeks later...(picture attached of gap between pan lock screw and head, where the brake shoe should be.)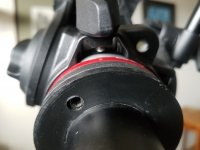 Do most tripod heads work in this way, where there's a tiny piece that can fall out and render the pan lock useless?
Are there certain ways one should or should not carry a scope in order to avoid this problem?
Am I making some beginner mistake that's causing this to happen?
So of course, that's been frustrating. Then there's another issue, this one related to the lever that's supposed to tighten on the quick release plate. The amount that it tightens on the plate has been weakening over time, to the point where now the lever can be pushed all the way forward, and the plate is still not tight (photos attached.)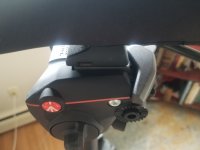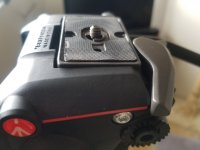 From what I've seen online, this lever should not get anywhere near all the way forward, and should be able to provide an extremely tight grip. So that brings me to more questions:
Is this weakening over time normal? I've had this setup for less than a year.
Is there something I can tighten to fix this?
Is this problem a sign that my scope is too heavy for this head?
Has anyone else with this MHXPRO-2W head had similar issues?
I like most things about this head! I like the smoothness of the pan and tilt, I like using the pan bar, I like the price, and I like how light it is. If anyone can recommend a similar tripod head that might give me fewer problems, that would be much appreciated! Or if I might have just been unlucky and bought a dud, and if I might be advised to just buy a new head of the same model, let me know!