Hi everyone,
After designing a couple of different solutions for mounting a reflex sight on a (Kowa 883) spotting scope, I've tried something new now and decided to create a mount that is part of the quick release plate rather than mounted directly to the scope.
The challenge with designing a reflex sight mounting for the Kowa is to find a feature that allows the sight to be locked stable directionally without interfering with the stay-on case.
The foot of the Kowa provides such a reference feature, so here is the new solution: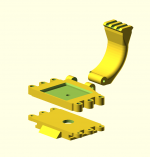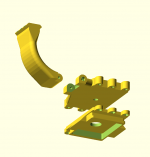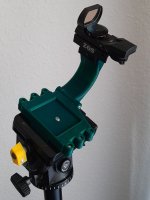 The main design ideas:
The recess in the top plate accurately matches the forward/rear edges of the Kowa foot to asure directional alignment. (I felt this was more reliable and more robust than video-camera style aligning pins.)
Dividing the quick release plate into an upper and lower part allows changing of the lower part for a different style, for example an Arca-Swiss type plate.
The separate arm can fold over 90 degrees for easier transportation of the adapter when carried separate of the scope. However, the main purpose of the folding hinge is to allow the sight to fold away and rest on the stay-on case when the scope is stowed away and squeezed in tight, as otherwise the long lever arm of the mounting will potentially cause it to crack and fail. (It also allows easy mounting of differently sized arms so I can experiment with the ergonomics of the solution.)
I've not managed to design a perfectly symmetric adapter, which is sort of difficult because the Kowa's tripod thread is not centered in the foot, so simply flipping it around is not going to work. Accepting this, I've moved the arm fairly far forward to make it easier to reach the Kowa's clamp arresting screw (or whatever it's called),which is located on the right hand side close to the scope's foot. (Most people are right-eye dominant, so that's why I decided on a right hand mount. It would only take a few minutes to derive a left-hand mount, though.)
The arm is not held in the open position by a spring, but by friction. I think this is going to be entirely practical, but I've yet to try it in the field.
Regards,
Henning