Moderator
Staff member
Supporter
It is 3 months since I reviewed SF 10x32 (
Review: Zeiss Victory SF 10x32
) and this was during a period when Covid 19 was keeping me more or less confined to my local neighbourhood and back-garden. Following two vaccinations and an easing of travel and hospitality regulations in England and Scotland we at last escaped to Islay for our 25th visit to this beautiful island.
I took my SF 10x32 with me (the product of a deal done with Focus Optics of Corley near Coventry) to see how it performs in the wide-open spaces of a Scottish Island. In short, its crystal-clarity, sublime focus-action, and the same handling as it's 8x32 sister, that is like the hand-shake of an old friend, made it a great companion on most days. Ha! Only most days? Yes because its 10x magnification makes it more sensitive than the SF 8x32 to the bino-shakes generated by gusting winds and when you are next to the Atlantic Ocean you do get strong winds. Which means it, like all 10x binos, it is happier in somewhat calmer conditions. For sure, it is very nice to have the choice between 8x 32 and 10x32 as there are habitats here that call for their distinct and different talents. Open coasts and big seas call for the longer 'reach' of the 10x, but among the tall grassy dunes and nearby moors, the wider field of view of the 8x is more useful for searching the turf for small flowers and for capturing butterflies in their erratic flight.
Lets get down to business and take a look at some of the sightings made with the SF10x, and the very first one was made before we had even crossed the border into Scotland. We paused our journey north at a pull-in next to the River Weir, and to get some fresh air went to stand on the old hump-backed bridge that spanned the river. Wagtails bounding up and down the river turned out to be Pied Wagtails, not the expected riverine Greys, but what puzzled us were a pair of grey-ish passerines, hawking for insects over the river. Dashing back to the car for the SF10x32s, when I returned, a quick look at the birds revealed a stripey crown and not much else. Then the merest glimpse of one when it perched partly under cover, revealed their identity. Spotted Flycatchers
Muscicapa striata,
one of our favourite birds. So why didn't we recognise them immediately? Because we have never seen them from
above
before! The characteristic stripey crown was something we had only glimpsed from below or from one side. Looking down on the entire crown was a new and unfamiliar experience. We didn't get to see the characteristic upright perching stance with head firmly set at 90 degrees to the body and with a scattering of short stripes on the upper breast, but it was a treat, if somewhat surreal, to be looking
down
on these birds through the SFs.
We arrived on Islay and on the following day walked to the shore to re-acquaint ourselves with the coast, and of course we were met with a flurry of piping complaints from the local Oystercatchers
Haematopus ostralegus.
These are very familiar birds to us but I lifted the SFs to get a closer look than usual. They are chunky, powerfully built glossy-black and white birds, with striking red eye-rings, a red-orange bill and, at least on these two individuals, rather anaemic-looking pink legs. The 10x magnification brought home to me for the first time what a powerful-looking implement their bills are. They are stout and blunt-ended reminding me of what is meant on those police-procedural shows when they say the victim exhibited signs of 'blunt force trauma'. Certainly they are a different tool from the more precision-forceps of some other waders, or indeed the species I saw next.
Choughs (or more descriptively, Red-billed Choughs) are UK rarities and a small number breed on Islay. We were regularly visited by these athletic and joyful-sounding birds. I say 'athletic' as they seem to delight in the aerobatic opportunities provided by strong winds, and 'joyful' because while doing this they utter a loud call which sounds like CHOW. In fact although we English pronounce their name as 'chuff', it seems more likely that it was intended to rhyme with 'plough' and be pronounced as 'chow', since this is the call the make. Through the SFs their red-legs and bills were a smart contrast with their glossy-black plumage, and their bills are so different from the Oystercatchers' blunt instrument being constructed like finely designed surgical instruments for foraging among turf.
Around two sides of our cottage was a mown lawn that was regularly visited by Brown Hares and Pied Wagtails. The Hares were breathtakingly beautiful through the SFs and with time and a lot of photographs I feel sure one could recognise all the individuals by their different face patterns. At the time of year we were there, this was partly facilitated by the different ages of hares and therefore their different sizes. The very smallest youngsters, not much bigger than snowballs, didn't visit us but we could see them in the nearby rough grazings dashing about in the evening like mad-things and generally behaving like all young things.
Pied Wagtails foraged this same lawn for insects all day, every day, stalking along with head jerking back and forth, and then suddenly launching into the air with a flurry of mad wing-beats as they sought to capture insects they had startled out of the grass. Familiar though this species is, it was a treat to see the plumage details, with a deep black on the mantle and chest, relieved by the white markings on the wing coverts. They are actually very smart-looking birds.
Black seemed to be the theme of the birds I was drawn to viewing, from the Oystercatchers and Choughs to the Pied Wagtails and my final choice, the Great Northern Diver or Common Loon,
Gavia immer
, that was resident in our bay for more than two weeks. One of our very favourite birds, the SF 10x32s were ideal for providing a closer look of this rather shy bird as it dived and surfaced. The chequer-board pattern on its back, the necklets around its neck and it's red eye were all imaged beautifully. The black of its head and neck seemed so dark and lustrous that 'black' seems an inadequate description. This individual was alone for most of its residence but was joined by another for a couple of days and we had high hopes we might hear their voices but it was not to be. We have heard this species call and sing though, and it is a memory that will never fade.
Finally, I can't resist including a particularly beautiful non-bird subject and that is the Marsh Fritillary butterfly for which Islay is famous as a stronghold of this rather local insect. The variety and intensity of the pattern on their upper wing surfaces were simply fabulous, as in, unbelievable. Take a look at the photo of a mating pair and at the pattern on the female's wings and I hope you can see what I mean. In my more whimsical moments I can imagine this pattern being suitable woven in silk as a cloak for the wizard Gandalf in Lord of the Rings.
Back down to earth, I really enjoyed using the SF10x32 on days when the wind allowed the use of 10x magnification, and didn't find the exit pupil too small or difficult at all. If you have wondered about the ease of use of a 10x32 I would urge you to try one out and decide for yourself, and I think you may be surprised.
Lee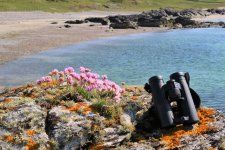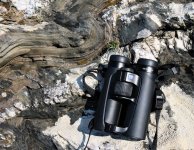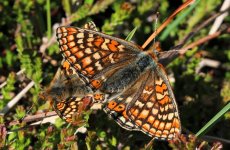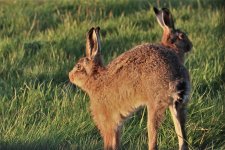 Last edited: