Location:
Saw this guy in Byrd Park in Richmond, VA, on January 1, 2021. The park is bang in the middle of the city but is also home to a lot of wildlife.
Appearance:
He has yellow, webbed feet; dark, hunter green on his back and sides and gray/brown on his chest and neck (I haven't learned the proper anatomical terms yet, so forgive me). His face and beak/bill/(nose?!) are red with white splotches, almost like he's sun-bleached. He is really strange and lovely looking. He is slightly bigger than a chicken? (I live in the middle of the city so I'm not acquainted with many chickens, really.)
Voice:
He was a quiet fellow. We exchanged no words, us.
Behavior:
Though there were a lot of waterfowl mingling and chatting at this pond, he hung solo on the sidewalk, acting mostly as an observer. I didn't see any more like him. He did eventually get in the water and sort of let the current brush him around.
Lovely fellow; I'm glad we met. But what is he?
Thanks,
e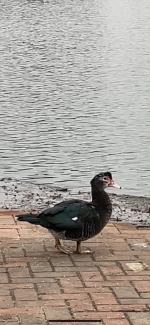 View attachment 1361687
Last edited: