Hi folks,
just registered here to come get some clarity with some things I noticed with the above mentioned binocular.
I'm coming from a scientific background and was wondering why most reviews are so highly subjective ("I notice no CA whatsoever") when it's quite easy to make some objective photos.
I bought this bino because of the good reviews I read, and am
mostly satisfied with sharpness in the center
and
build quality
. But I see blue and purple fringes around every high contrast lines (CA) and the cushion distortion and edge blurring seems to me similar to my 70s and 80s Revue and Zeiss Jena binos which in all reviews I saw are very low rated in that respect, e.g. in
Carl Zeiss Jena Deltrintem 8x30 - binoculars review - AllBinos.com
:
Chromatic aberration Good to average correction in the centre, not very high at the edge. 6.5/10.0"
Distortion The distance of the first curved line from the field centre compared to the field of view radius: 31% ± 3% 3/10.0
Blurring at the edge of the FOV The blur occurs in the distance of 64% ± 5% from the field of view centre. 1.5/10.0
whereas modern roof binos mostly get quite better notes.
Am I oversensitiv here, and other don't notice that as much, or do I have a "lemon" item?
I wrote to Svbony and sent some example pictures, they say that is totatally normal in binoculars ;-) But My Zeiss Deltrintem has defintely less CA, and a cheap 8x26 Ddoptics bino had less sharpness but also almost no cushioning - so it's possible!
Why are there so few pictures taken through the oculars to compare aberrations and distortions?
I would appreciate if some other folk with Svbony or similar optics (Vortex, Opticron, Nikon etc.) could look at my pictures here and take some similar ones. It's quite easy, for AR just some building edges or tree branches or so against bright sky, in center and edges, and cushioning is really easy to see with rectangular shapes like modern buildings across the street. I don't understand why bino reviews don't just make example pictures of a something like that, pinned to a wall in say 5m:
So here come my pictures. I would really like to know if it's really normal or not. I think I could live with the cushioning, but the CA is annoying, I just can't not see that blue fringe around high constrasts.
Cushioning
, and
depth of focus.
Also
blue fringe around the whole FOV
: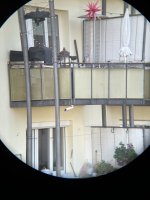 Blue and red CA
at roof top when at upper edge of FOV, with detail: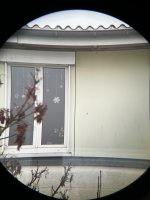 Even in the center, now more purple: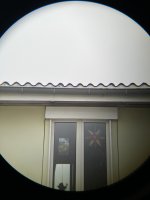 If you look at my last picture, there is virtually no black line that hasn't some blueish fringe, as in the window frames in the next pic. Normal? I must admit I don't notice it every time, but it's there if I look for it, and sometimes it's a PITA: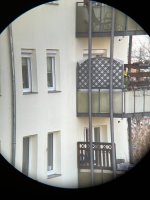 Here for comparison my
80s Zeiss Jena Deltrintem 8x30
, so naturally smaller but I think less CA. FOV is very big in comparison and so is blurring at the wider FOV, but in center it's not much worse I think if we look only to the 2nd window - which has no color fringe.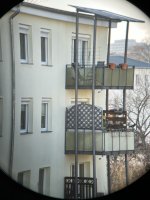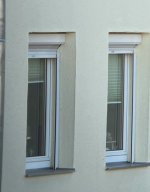 At last: Markedly worse sharpness & constrast, but almost
no cushioning
and I think even less CA (well, perhap because lines aren't sharp enough) with the small Ddoptics Ultralight 8x26: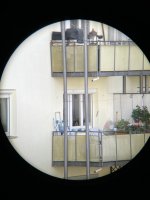 I know these are no birding pictures, but for comparing sharpness, coloring etc. I think man-made rectangular, sharp structures are much better! Cushioning will be almost unnoticable in nature (apart from regular trees or so), but the CA is there with cartainty, especially with object not completely in the center of FOV.
What do you think?
I really would like to see some similar pictures from "across the street".
Last edited: