Let me rant a little, let me get it out......I'm stressed and I think this will help.
So, I got this rogue Orange-crowned Warbler....he's been with me since the fall, he nothing but a pain in the a$$.
First it was the Bewick's Wren; he followed 'em around, stickin' to 'em like glue, mimicking their every move. Weaving in and out of the dead Turks Caps and Flamed Acanthus, exploring every inch of the brush pile and stag stand. Eventually he wore 'em down, haven't seen the Bewick's Wren in over a month. The problem was, the BEWRs were house huntin'....they hunt early in West Texas. I had their houses up, two choices to select from, both covered with a good bit of brush; not easily detected by Blue Jays.
Now he's tormenting the RUHU; my juvie 1st year female, my Rufous Hummingbird who decided to winter-over in my yard.
Until now, I've let the OCWA be an OCWA.....but today I had to intervene, I had to shoo it off. The guy wouldn't take a hint, it took multiple shooings.
We're in the middle of an "unprecedented" winter storm, I think all of Texas is. Been going on a few days, today is the first it snowed, the most snow I've seen in the past 18 years...before that, I wasn't here.
Well, the OCWA has been tormenting this RUHU for weeks but today, because of the snow, he wants everything the RUHU has. All her feeders and all her perches.....won't leave her alone, she goes to a perch, he goes to a perch, she goes to a feeder, he goes to a feeder......his new found food source; sugar water.
Because of the severe weather, I've had to move the feeders under the patio roof. Continuing to cater to the RUHU, being she's the displaced winter visitor, I planted multiple twigs above the feeders under the roof beams to use as a perch during the storm. She likes it.
Now, the OCWA has laid claim to each and every twig....snoozing in between sugar water feedings, with his head in his feathers....making it evident; he's here to stay.
Here's the culprit: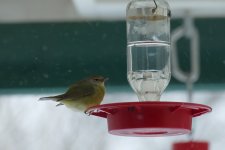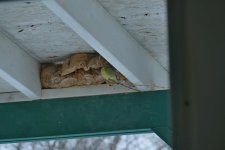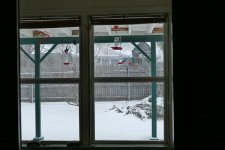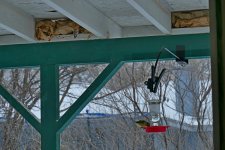 San Angelo, Tom Green County, has no documented wintering-over RUHUs. That said, I'm doing my best to make her stay comfortable. She been here over 89 days, today's; the 89th day as documented on eBird but she's been here longer than that. I know this cuz I ignored her when she first got here. Back then, at the same time, I had 3 Anna's Hummingbirds in my yard; 1st recorded sightings of Anna's for TCG. I'm guessing the RUHU has been here about 113 days or so.
The ANHUs were with me 36 days, last one left on the 8th of December.
As a side note, in 2018 I had an RUHU with me for 45 days, I think it left here on December 22nd.
Here's the ANHUs: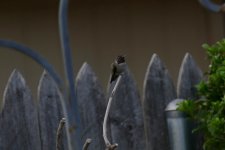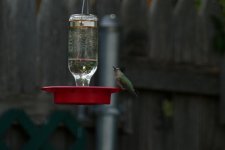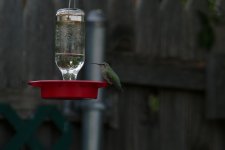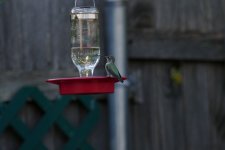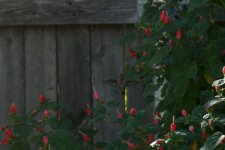 So, the temps are in the teens (Fahrenheit), it's snowing, about 6-8 inches on the ground, and the feeders freeze in less than an hour. I bring 'em in, thawin' 'em out and change 'em out hourly.
Here the defrosting station...table heater and hair dryer: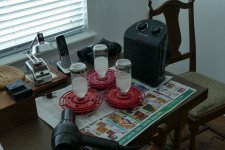 I guess that's it......I'm just kinda stress having to deal with OCWA, the freezing tempts, the snow......but it's kinda fallin' off a little now that I laid it out.
I'm still worried the RUHU won't make it through the night, she spent a lot of energy and time flying in this blizzard, and not drinking from the feeder due to the OCWA.
Oh, here's my winter-over....or do they say over-winter......Rufous Hummingbird: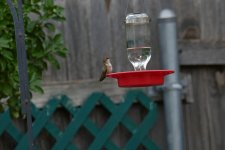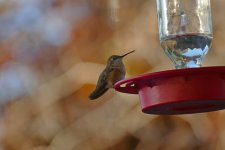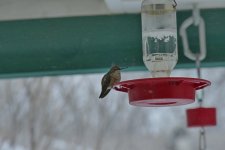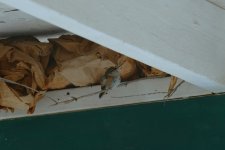 Thanks for listenin'.