a bit of sightseeing and birding a mixed trip
we are still 20 years old in our heads so off we set friday 22nd from Hebden Bridge at 8am and north we headed after a few stops for brews we crossed the border
yeah bonnie scotland
headed to Falkirk for the Kelpies........colette loved them and they are stunning 2 magestic horse heads standing proud........very impressive
over the Queensferry bridge and into the Kingdom of Fife, took the coastal road.......stunning place and one to visit again
parked up around 5pm and set up in the carpark at Kingsbarns which offered free overnight parking bingo!
very windy but we got settled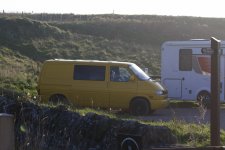 given the strong se wind it was time for a seawatch 18:00 - 20:00
lots of birds passing
gannet 100+
fulmar 60+
kittiwake 76
auk sp 200
sandwich tern 6
red throated diver 2
common scoter 8
at around 19:20 i picked up a dark shearwater heading north, if it wasnt for the distinctive flight it would have been missed, it flew in large arcs towering above the waves before flapping then towering back up doing loops it was effortless playing in the wind.
about the same size as fulmar but longer looking wings and slimmer body dark head cap stood out, i put it out as a Great Shearwater great find
23/04
the sunrise was amazing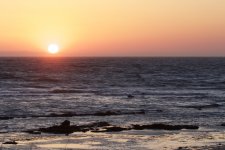 breakfast was eaten on the beach and time to leave not before a walk in the dunes but it was windy though a nice stonechat made the cold walk lovely, and remembered id been here before way back in 1997 for a bonapartes gull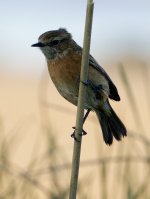 driving north through St Andrews and over the Tay bridge it started to feel more different the landscape the culture
vanlife meant having a wash and teeth brush in sainsburys in dundee but its free so why not eh?
next stop
St Cyrus by the River Esk
still windy but suns out and grasshopper warbler reeling swallows over the carpark
continuing north past Aberdeen we found Cruden Bay a quaint little village with a big beach, parked up at the harbour
now its starting to get good
red throated diver 6
black throated diver 1
red breasted merganser 2
sandwich tern 4
eider 6
long tailed duck 1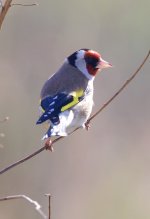 Fraserburgh yes we went! it sounds lovely but it was grim very grey looking.
we parked at the old harbour in Inverallochy
despite the smell and overall feel but i saw over 100 long tailed ducks in the bay, we wanted to stay at the Glenbuchty stopover but it didnt look good so we carried on to Rosehearty where we found the Community Boat Club perfect stop over great views over the bay nice group of eider and a single goldeneye in the bay 2 wheatears around the harbour and a whimbrel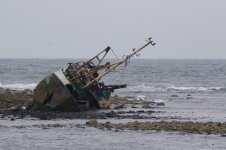 24/04
leaving Rosehearty we headed to Portsoy
we stopped at Banff for a walk on the beach, it was now clear we were in a different country but the brakes were making a scraping sound so we parked at Portsoy harbour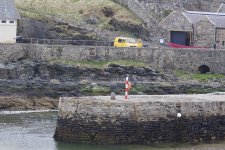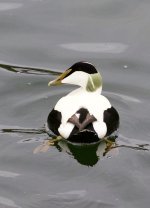 despite the brakes needing doing it was a perfect spot......toilets and tap water and very quiet with very friendly locals........so what to do in Portsoy on a grey sunday? yes look for White Billed Diver
ive seen 2 before 1 Anglesey and 1 in Blyth but i wasnt ready to what happened next
i headed to the headland with the dolphin ....... 3 birders already i asked "anything?" the reply just hurt "no we have just got here! leave us alone" i set up my scope lots of long tailed ducks but the only diver was summer plumaged out beyond the harbour no one else noticed it sat on the sea looking stunning like a star spangled beauty with that ivory bill shimmering in the sun, i headed back to van for a coffee
theres worst places to breakdown and Portsoy just gave...........
another look at the White billed diver and off to the Shore inn.........after a few pints we felt like locals
by 6 i couldnt resist another look for the diver no luck but met 2 birders from Hong Kong i hope they saw the diver ?
25/04
with a lot of local love and help we were back on the road at 1100 so bow fiddle near portknockie great views of black guillemot plus puffin
col made a brew and i had look at the sea ............3 white billed divers amazing place
we got as far as Nairn and stayed the night in woods on the road to Inverness
26/04
leaving Inverness we headed north through some stunning landscapes, by mid-afternoon we arrived at Gruinard Bay
this place is special
26/04
Gruinard bay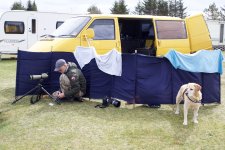 18 great northern divers
4 red throated divers
wood sanpiper 2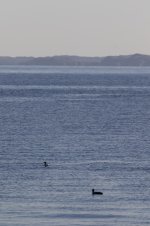 white tailed eagle 2
went to bed to with the cuckoo calling and woke up the divers calling
27/04
Loch Garten
we stayed in the smaller carpark by the loch
after a week of visiting some stunning places i was totally underwhelmed by Loch Garten it was rubbish.........opens at 10am just awful more theme park