These were taken at a small low-water bridge over a shallow river. First picture is a different individual, 2, 3 and 4 are all the same one. They both looked about sparrow-sized, and were hopping around in a small tree, not doing anything too remarkable as small birds go. I lost track of them before I could get closer for better pictures. That second one is a yellow-rumped warbler, right?
What are some good resources for learning to tell the difference between various sparrow-like birds? Is there a book on something like "bitty striped American birds and how to tell them apart"?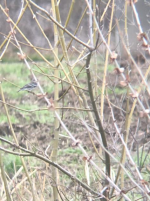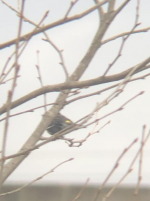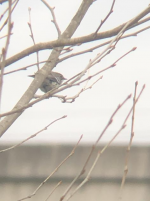 This guy was in the top of a tree, shouting. He kept fluttering his tail around, rapidly fanning and closing it. I can't particularly describe most of his calls, but a couple of them sounded like the rusty-gate noises a common grackle makes. He looked about as big as a grackle typically is, but I didn't see others around and I've never seen a grackle flutter like this. He also didn't have the shiny blue head a common grackle has, and the tail looked a bit shorter. I couldn't see any other colors on him, just the black. Any thoughts?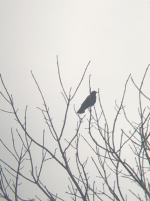 If anyone is near Austin, Mankin's Crossing might be worth checking out. I found it because of all these INaturalist sightings. I saw at least one species sandpiper-shaped bird, though not well enough to be sure if there was more than one species. There was a flock of about 10. I also saw a belted kingfisher, a couple of duck-shaped birds flying overhead, and a nice variety of assorted birds I didn't get a good enough look at.
iNaturalist is a social network for naturalists! Record your observations of plants and animals, share them with friends and researchers, and learn about the natural world.
www.inaturalist.org
Last edited: