... earlier a k a "Calalp"
On a request, made in November (by myself and James Jobling), my dear friend and neighbour (here in Stockholm, Sweden) Mr Nobuhiko Osawa has kindly lent us his time, and his knowledge in Japanese (also of Old School Japanese) and I think he now, after a couple of Months, has managed to find quite a few additional pieces, on some earlier unknown Japanese Naturalist and collectors (most of them close to all unknown, in most details, at least to us Europeans, and other 'Westerners').
Thus, the following is what Mr Osawa could find ...
[New info, compared to Jobling's MS =
underlined
]
isizawai
as in:
•
the invalid "
Troglodytes troglodytes isizawai
"
*
MOMIYAMA 1927 (excerpt of OD below):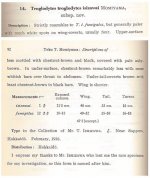 Jobling's MS (November 2020):
T. Ishizawa (fl. 1926) collector ...
Nobuhiko Osawa
in litt
. (March 2021):
T

akeo Ishizawa [石澤健夫] (1899–1967)
He worked at Research Division for the Ministry of Agriculture and Forestry.
He also published 8 books under the pen name Jicho Ishizawa [石沢慈鳥] about Birds, wild animals and insects. Some of these received favourable comments.
Thus, as simple as that; case closed! 👍
Enjoy!
Björn
PS. The only thing I might add, is that this guy; "T. [Takeo] Ishizawa" himself (at least according to the
Richmond Cards
) personally described:
•
"
Hirundapus caudacutus
, var.
uchidae
" ISHIZAWA 1928 [
-ae
= feminine ending!]
... a taxon equally (the same year, re-) described as (alt. amended, or altered into);
•
"
Hirundapus caudacutus uchidai
" ISHIZAWA 1928 [with a more proper masculine ending]
... which (both, at least the latter
) honours the Japanese ornithologist Seinosuke UCHIDA [内田清之助] (1884–1975), who, in his turn, was/is remembered in (for example); the equally invalid "
Dryobates leucotos uchidai
"
**
MOMIYAMA 1927 (clearly connecting the guys involved).
---

To be continued

[with even more equally/poorly understood Japanese eponyms]

​
---
*
Today a synonym of the (Winter/Eurasian) Wren ssp. Troglodytes troglodytes fumigatus Temminck, 1835
**
Today a synonym of the (White-backed) Woodpecker ssp. Dendrocopos leucotos namiyei (Stejneger, 1886)