Hi,
I saw a hedgehog early morning the other day near Polhov Gradec, in the Upper Carniola region of Slovenia. I am wondering whether the Western European Hedgehog (
e. europaeus
) or Northern White-Breasted Hedgehog (
e. roumanicus
) is more likely.
I didn't have a good view of its underside, and didn't give it any thought at the time. However, I've since checked on IUCN's website and
e. roumanicus
exists throughout Slovenia, whereas
e. europaeus
only occurs in the western part of the country, with Polhov Gradec included (just). On the geographical basis, I feel that
e. roumanicus
is more likely, despite my struggle to pinpoint its diagnostic features.
I'm attaching a phone pic here, and will try to add more later.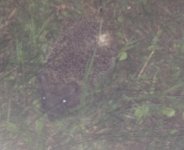 Many thanks if you can give an ID based on geography or its appearance, and reasons why.
Paul
Last edited: