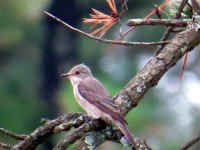 I saw several spotted flycatchers in a walk with the family in Outeiro do Carballo in A Curota. This is one of the few places with trees in this mountain, most of them have been cutted, and all is full of gorse.
There were some chaffinches,stonechats and pipits too.
Here is the source of Rego das Lobeiras and it was with tadpoles and frogs.
More in
http://birdingmanzanares.blogspot.com.es/2016/11/blog-post.html