My spotting scope is an antique, a Kowa 60mm (ca. 1966) with 25x, 40x, and 60x fixed eyepieces. It has no standard screw attachment for tripods.
The tripod that I use with it has no brand name marked on it; I suspect it was part of the package when bought new. It has 8-inch cast aluminum legs. It stabilizes the scope with a removable strap that goes over the top of the scope barrel and thus attaches it to the head.
It works well enough for my purposes, but I'm no longer comfortable lying prone to use it and want to be able to sit or stand. That implies a new tripod, but I haven't seen any that use this old-fashioned way to strap the scope to the tripod. I'd rather not modify the scope to accept a standard screw.
Do I have any options or must I buy a more up-to-date scope?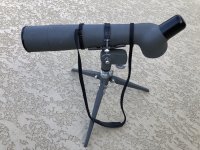 Last edited: