Yo Dudes,
Here's an idea if you're puzzling over a sling strap for the Tamron 150-600mm.
Didn't fancy lugging the awkward tripod collar with a 1/4" Screw soooo....
Bought an
OpTech 3501242 Utility Strap
OpTech 1301412 Lens Loop System Connectors
1/4" Screw For DSLR SLR Camera Strap Tripod Quick Release Plate Mount UK
(needed 2 pads for the screw to be snug against the body - and luckily they sent 2
Already had a
LensBand Lens Band Zoom Lens Creep Reducer - Black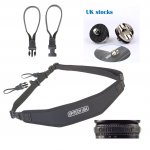 The normal way to use the lens loop works OK - but it rests against the camera body and so the strain is still on the lens mount - not that the mount can't take it. If you're wondering the loop does avoid the function and lens buttons on the Nikon D7200.
Noticed the loop fits around the tripod collar points on the lens barrel! Though it doesn't really budge when on, it sometimes slips off the bottom 'pin', so I wacked a lens band over the loop and now it doesn't budge at all
. The weight is on the collar points where it would be if the collar was on (kinda).
Added the extra security of the loose 1/4" Screw and Bob's your uncle - wey hey!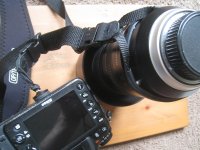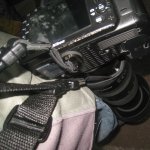 Damn chuffed I didn't spend over the odds on a BlackRapid - total cost about £36