It wouldn't surprise me if there was some shared lineage there, although if you compare physical dimensions and optical specs like FOV, eye relief, close focus etc. they are a dead ringer for the new Vortex Viper HD (which despite external appearances is a totally different binocular than the original Viper + Viper HD which were produced in Japan originally).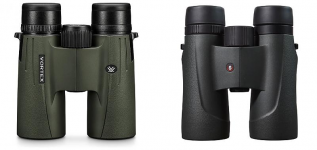 This reminds me, I did receive the pair of S7 8x42 that I ordered on sale from OpticsPlanet and I would have returned them even if Styrka was still in business. I wanted a decent backup pair that I could keep in the car that would still have pretty good optics, but unfortunately the QC on these is clearly lacking (perhaps why they are going out of business with their warranty?). The eyecups were slightly asymmetrical (one of them stuck out about 1-2mm longer regardless of eyecup position) but more concerning, the right barrel was clearly defective as it was not sharp at all.
It took me a bit to figure it out, at first I though the binoculars just weren't particularly sharp, but then I realized it was just the right barrel (and I'm definitely right-eye-dominant). The left barrel was as sharp as you'd expect for a mid-priced binocular like a Monarch 7 or Viper HD, which is to say pretty sharp but not razor sharp. On the positive side, they had good brightness and very neutral color with above average glare control, nice comfortable eyecups, a smooth well damped focus knob, and a very wide and relaxing FOV. Light for a 42mm (I weighed them at just under 650g so spec is accurate) yet with thick armor that gives a solid, rugged feel; clearly these are targeted at hunters. On the negative side, the sweet spot wasn't particularly large (for the list price) and CA control was meh, certainly nowhere near as good as a previous version Viper HD.
Leaving aside the defective barrel and pretending the company was staying in business, I would say these would be a viable competitor in the $400ish list price range occupied by the likes of the Monarch 7 and Kowa BDII, presenting a solid value at $300-350 when on sale. They are light and comfortable to use, reasonably bright with good color, with a nice wide FOV. If you get a good sample for $300-350 you'd have a binocular that would do everything a birding binocular really needs to do.
However, the original ~$779 msrp is frankly absurd. Even if that's a "fake" msrp like some internet brands do to make the "normal" price of $599 or $649 look like it's a great deal, they are still overpriced. They look and feel like a $400-500 binocular at best. HOWEVER -- the entire point of buying from a direct-to-consumer internet brand is VALUE. Why on earth would you buy the Styrka S7 for $600 (or even $500) when you can get a comparable optic from Nikon, Vortex, Kowa, Meopta etc. for the same or less? I see nothing that would make me want to spend $100-200 more on this binocular vs a Monarch 7. What's the value proposition here? A free harness and once-a-year cleaning?
An internet-direct binocular priced in the $700-800 range is implicitly competing with the "sub alpha" class in the $1000-1200 zone. You buy from a no-name no-history start up brand because you can get a product that competes with the price tier ABOVE it, but the S7 is more comparable to the price tier BELOW it.
Tract Toric UHD for example does this successfully, I found it optically superior to the Conquest HD and pretty close to $1200-1500 optics like Kowa Genesis and Leica Trinovid BR. I haven't had the chance to try any Maven products but I'm betting it's a similar story there given the reviews. If you get a Toric SchottHT for $600 on sale (or $500 used) and then you compare to your buddy's Conquest HD or Viper HD which they paid hundreds of $$ more for, you're feeling pretty good about the value you got. But if you spent $600 on the Styrka and then you borrow your buddy's Monarch 7 or Viper HD that they spent LESS on, you're going to feel a knot in the pit of your stomach (which will only get worse when you see what the used market value is if you think about bailing).
This really feels like they miscalculated the market, and tried to position a binocular that would have been a good value at $429msrp as a premium product worthy of a $779msrp, and hoped nobody would notice because of all the accessory and warranty bling and nice packaging.