Bought the SV406P 20-60x80 ED scope as well after meeting up with BKoh who kindly allowed me to test out his scope and gave very useful advice. Also purchased SvBony's 10mm and 18mm UFF and 23mm aspheric eyepieces together with the scope.
Compared to a Vanguard Endeavor HD 65A scope I had previously, this scope is much better across the board - sharper with less colour fringing, ability to switch eyepieces, full rubber armouring, smooth focus knob operation. I think it hits a sweet spot in the price-performance spectrum, and I didn't want to pay more as I don't use a spotting scope that often other than for shorebirds.
The 18mm UFF eyepiece has a wider apparent field of view and longer eye relief than the 20-60x zoom eyepiece, yielding a much more pleasant viewing experience with glasses at 24x magnification (assuming higher magnifications are not required).
I find myself gravitating to the 20-60x zoom+23mm combination for shorebird viewing, since the flexibility of the zoom is useful for ID'ing distant birds or reading leg flags.
The 23mm aspheric eyepiece is easy to carry in the pocket as a wide-angle scanning eyepiece to complement the zoom eyepiece, which I find quite narrow at the 20x magnification. Sharp in the centre but sharpness falls off toward the edges. Definitely worth the extremely low sub-$10 price. It's also great for sharing scope views with novice/non-birders, who commented that it was easy to look through.
For digiscoping purpose, the 20-60x zoom is the best eyepiece because of the twist-up rigid eyecup compared to the fold-down eyecups of the 10mm and 18mm UFF and the fixed rubber eyecup of the 23mm aspheric.
SV406P with zoom eyepiece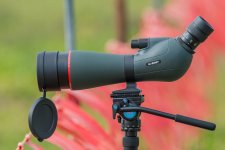 18mm UFF, 10mm UFF and 23mm aspheric eyepieces
SV406P with 10mm UFF eyepiece (eyecup folded down)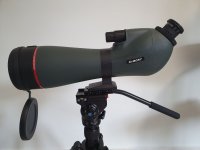 SV406P with 18mm UFF eyepiece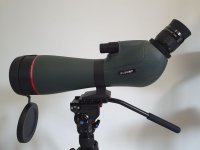 SV406P with 23mm aspheric eyepiece