Hello,
I was out birding with my father, (I was looking for raptors to get photos,) and while driving on a back road, We saw a Swainsons Hawk flying. On closer inspection, it was actually an aerial fight between a Swainsons Hawk and what looked like a Peregrine Falcon. I pulled over, (It was safe to do so,) and got my camera ready. Due to a focusing error, I could not get a picture of the fight itself. BUT, I saw what happened. The Peregrine Falcon was using speed and moving fast, and the Swainsons Hawk was slow, but larger and stronger. It honestly looked like a WWII Dogfight!
In the end, the Peregrine Falcon lost and ran. The victorious Swainsons Hawk landed on a nearby telephone pole, and I got a couple pictures of it. His feathers were REALLY messed up from the fight!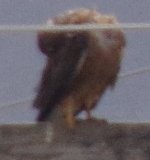 Its not every day I see that!
It was a great birding day.
Jared