Hi everyone,
Here is a brief comparison of the Swarovski ATX and Vortex's top-end Razor HD (Gen-II) spotting scope, with pictures.
(I thought both models here were 85mm, but, looking back, there is a possibility that the Swaro might actually be 95mm. Not sure. Also, because I was only able to do an indoor comparison this time, I hesitate to comment on finer optical qualities, such as chromatic aberration. Please take what follows with a big pinch of salt. Thanks!)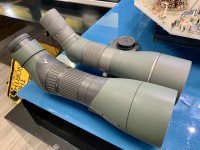 As many of you will know,
Vortex
is a favoured brand in the American hunting market, and
Swarovski
is typically associated with 'serious' birdwatching. As the pictures show, they are very similar looking scopes, and since the Razor is the best Vortex currently offer – and since they are currently attempting to compete with Swarovski by offering 'high-end, budget' options like this – it is probably fair to compare them. These are two of my favourite models, at present. I recently bought the Razor, and have been waiting for a chance to do a direct comparison by taking it to a shop (even if it is only a quick overview).
At a distance, these scopes have almost identical
aesthetics
: natural green, black and grey colouring, with helical focus rings and understated branding. Taking a closer look, it is obvious that they both have wonderful build quality.
Although
the Razor is marginally smaller
than the Swaro, the latter seems a little lighter. Vortex users require gear for strenuous wilderness trekking: clambering over mountains looking for big game, with an excellent warranty to protect them if their gear gets stepped on by a bear. So, the Razor is designed to condense high power and durability into as small a body as possible, for efficient backpacking. The Swaro can afford to be larger, then, but is impossible to say how its arrangement of lighter internal materials might affect durability (without bringing a bear with me, next time).
The FOV on both scopes is excellent, with superb edge-to-edge clarity and brightness.
The main reason I had to choose the Razor over Vortex's lower-end Diamondback and Viper models was the far superior FOV. That said, the Swaro has a 10-15% advantage over the Razor. If the extra money is going to go anywhere between these two, then it will be in expanding that FOV by a slim, but certainly recognisable, margin.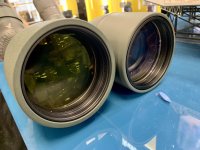 The
focus and zoom rings
are both intuitive. The Razor's focusing is shallower, and the rings give substantially more resistance than the Swaro. This may suit people who want to sit and watch the same mountainside with rock-steady focus throughout a whole afternoon, waiting for a moose to appear, but the Swaro will obviously be better for the birder who likes to shift focus quickly from background to foreground as animals come and go. The side-by-side arrangement of both rings on the Swaro makes a handy addition, when you get used to it. The Zeiss Harpia has a similar setup.
Eyepieces
display a significant difference. Where the Swaro has a large rubber cup which twists upward through subtle detents with a very smooth action, creating a tight eye chamber, the Razor lifts only at the edges, leaving a larger space in the centre. The Razor eyecup is also slightly loose at all raised positions (although this might be a fault with this particular second-hand model).
One other big difference, of course, is the famous
modular options
which come with the ATX/BTX/STS family. Beyond the particular configuration I was looking at that day, we can't really compare these two scopes, in terms of their full potential. Incidentally, the Razor does have interchangeable eyepieces, but the only other options are targeting reticle viewfinders for firearms users, so, they're not really comparable to the Swaros.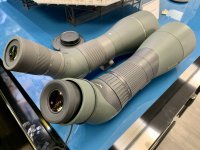 I love the Razor, and, at nearly half the price of the Swaro, it makes an excellent choice for people looking for high-quality glass who might be taking their scope through some serious physical environments. The
unlimited lifetime warranty offered by Vortex
really is unbeatable. Where the Razor is a hardy and professional piece of kit, the Swaro is all this whilst also having the extra aura of a 'luxury' product. These qualities affect the scope's
sense of character
, too; the Swaro's luxurious quality might make some users hesitant to actually take it out and use it in the field, whereas the Razor seems like it wants nothing better than to be out and about, trudging through the mud and wind!
As noted, the one thing that would make me want to spend the extra money on the ATX (in this particular configuration) is the 10-15% increase in FOV over the Razor. All other differences are negligible, in my opinion. The slight weight reduction in the Swaro is probably not as important as the slightly smaller body of the Razor. Both have excellent build quality, with simple, pleasing ergonomics, and provide beautiful clear and bright views.
Sorry for the lack of
pics taken through the scopes
themselves. There was nothing at the test location that was really worth observing. I'll have to do a follow-up!
(Bonus quiz: maybe someone recognises the shop where these pictures were taken? Clues are visible.
West Sussex...)