I finally had the opportunity to do a direct comparison between the Swarovski ATX 95 and the Zeiss Harpia 95.
After a few weeks of emails and phone calls, I found an optics store with staff who were kind enough to actually break the seals on four separate boxes worth nearly £7500 and put some kits together for me to try. I had to travel all the way to London from the coast to do it, but it was worth it!
The 95 options make a fair comparison, of course. My main plan of campaign is to check out some other scopes and modular options, including the ATX 115, BTX, Leica APO Televid, the big Kowas, Nikon Monarch, etc., including some of the extenders available for these scopes. But I think the two I selected here make a good place to start. I also didn't want to push my luck with the kind folk who were breaking all the seals on valuable stock on my behalf, so I was very happy to take what I could get.
These are only my subjective impressions, of course. I'll start with the physical objects themselves, and then give a (very superficial) overview of the optics... (spoiler alert: I didn't buy either of them).

The first thing I noticed was how much larger they were than my Vortex Razor 85mm. Not surprising, of course. I originally selected the Razor for its compact size (its pretty dense for an 85mm), and I've been getting away with using this little Gitzo 1545T; but I would certainly need something a little sturdier if I was to move to 95mm.
Both the ATX and Harpia feel like big, serious scopes. The ATX has a chunky ocular section, whereas the Harpia is slender toward the eyepiece and has a completely different sense of scale and balance. This is more obviously apparent in these over-the-shoulder images; the camera placement is a little different between them, but the Harpia is still presenting a slighter and (to my eye) more appealing aspect to the user. The ATX eye piece is a little too big, for my tastes; the Harpia allows you to get close without having the sense of so much 'equipment' against your face, as it were!

In terms of build quality, I thought they were rather similar. Like some others, I have been disappointed with Zeiss' rubbery aesthetic in recent models, and impressed by Swaro's more delicate machining. I have to say, both scopes were a little disappointing, physically. Neither of them 'wowed' me with their build quality, like (in bino world) the Leica Noctivid, or, in terms of overall ergonomics and physical aesthetics, the NL Pure. The rings and joins on both the ATX and the Harpia are a bit wide, and I can imagine dirt and mud getting into them quite easily. They also didn't seem that symmetrical. The Harpia was probably my preferred design and build of the two, overall. Its certainly somewhat nicer than their lower-end Gavia model, but - as one of the shop assistants pointed out - it still looks like "a big hunk of rubber".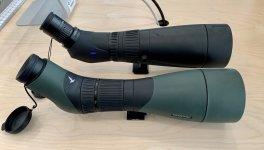 The focus wheels and zoom mechanisms are both fine, nothing more. I don't really like the design of any of the adjustment mechanisms on these scopes; they just look like dirt traps, to my eyes, and I feel as though I'd be cleaning them after every use. I don't have this feeling with the Razor because of the more subtle pattern on the grips.
I'm also not sold on having the zoom rings on the objective barrels, which is what both manufacturers have gone for with these models. But I guess that just reflects what I am used to. It's hard to say anything authoritative here, because with both these models being brand new, I assume that they will lose a significant amount of stiffness over time. There were slightly awkward to use, and probably for this reason. Straight out of the box, at least, the ATX was the easiest to focus.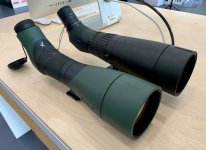 From a user's perspective (i.e., looking toward the eyepiece), the Zeiss was the most appealing. I think the ATX eyepiece is just too large to be comfortable, and I'm not a fan of the overall look of the scope in this setup. The Zeiss is better, but I was not falling in love with it, either; I think the front half is - shall I say it? - ugly?
These pics below show-off both scopes' impressive 95mm objectives, and the glass on display is very handsome. Both sunshades were stiff, but I think the ATX comes out a little bit further than the Harpia. Both seemed fine.

Now to take a brief and inexpert look at the views these particular scopes provided that afternoon.
I wasn't able to do a star test, because I don't fully understand what I'd be looking for or what the results might mean, as yet, so please forgive that omission.
These first pics were taken at the lowest zoom for both scopes, and the major factors which are immediately apparent are 1) the massive AFOV on the Harpia; 2) the superior brightness of the Swaro; and 3) additional edge distortion on the Harpia compared to the ATX's flat field. That's not to mention the fact that the ATX is showing 30x and the Harpia is on 23x. For me, the fact that the Harpia was able to show this size of AFOV at 23x was phenomenal. But is it enough to compensate for the lack of flat edges and what seems to be a notable loss of brightness...?

At max zoom, both scopes can reach an impressive 70x. The Swaro is still the brightest of the two, and the Harpia is showing some strange curvature effects; these are apparent around the black outlines of the sign. The Zeiss image is a little woozy and dark for my taste, here. I don't think many people would disagree when I say that the Swaro is the better view, here.

I didn't buy either scope, and my search for an 'upgrade' continues. I was expecting, perhaps hoping, that one of these two scopes would 'wow' me and be an obvious favourite. I'm sad to say that didn't happen. The Zeiss view was a little below my expectations, and the ATX was not as impressive as it might have been.
Obviously, there are massive caveats involved here: the fact that I was mainly looking at a gloomy London street on a grey January afternoon through a plate glass window! Hardly ideal, I know, but I think I got a good enough impression of how these two compare, side by side, physically and (to an extent) optically. The tripod could have been better, too. If I was bolder, I might have asked for the store assistants to set up a Gitzo Systematic Series 5, or something. As it turned out, I thanked them heartily for opening all their expensive boxes, and left the shop without a dent in my life savings.
If I had to pick one... I'd regret my choice, whatever it was. I know Swaro can do better, but I don't know why Zeiss' amazing constant FOV effect is not used by more top-end scopes (aside from the Meopta S2, without the same high AFOV number).
My search continues. Next on my list, I want to see the Leica APO Televid 82!
Last edited: