Moderator
Staff member
Supporter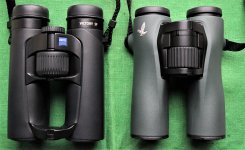 Thanks to Birdforum member Jan van Daalen, I have had the use of a Swarovski NL 8x32 during the past few weeks and have been able to compare them with my own Zeiss SF 8x32. Here is what I discovered.
The NL comes with that curiously sculptured shape and I was intrigued to find out how useful it would feel during active nature observation, as opposed to how it feels when trying it out in an armchair. Well, I didn't arrive at any firm conclusions about this as at various times my reaction was 'this feels odd', 'it's nice to have more room for my thumbs', and 'I prefer the SF's bigger diameter tubes that give me a more secure grip'. I alternated between these findings and never really decided on a final judgement, although I suppose you could argue that the waisted-shape of NL didn't prove to be an unambiguous improvement for me.
Physically, I wouldn't want a 32mm to be much heavier than the NL and neither would I like one to be much longer than the SF.
Before moving on to the optics I should mention that the NL has 6 eyecup positions compared to SF's 4 which gives it an advantage when adjusting the eyecups to see the full field of view while avoiding black-outs. However I found it baffling that Swarovski have chosen to site the dioptre scale on the underside of the hinge, as this means that for some observers, their IPD setting will mean they cannot see the zero position of the dioptre scale and so cannot see their own setting. They would have to destroy their IPD setting in order to reset the dioptre in the event of it having been moved accidently. Observers who believe the IPD is critical to binocular performance and who would normally never change this once they have set it, will find this particularly annoying. See the photo below on the left, which shows NL set to my own 58.5mm IPD and the fact that I cannot see the zero mark to check or reset my dioptre without destroying my IPD setting.
One thing was very clear from the outset and that is that both of these models have fabulous optics, sharp across the field of view and very well-controlled chromatic aberration. I did notice that NL produced a slightly brighter image than SF, and this was especially clear when looking at white objects. The NL's white was simply whiter. Having said that it would be wrong to say the SF's image was perceptibly dull.
This extra brightness of NL (combined with a greater choice of eyecup positions) would seem to put NL into a commanding lead in this comparison, but in the world of binoculars things are never so simple.
Take a look at the photo below, on the right, and here you can see the suburban scene outside our house. Note how the brightness of the low winter sun is just visible around the corner of our next-door neighbour's bay window. More or less in the centre of the pic is the side of large house in the distance and on it, high up near the roof, is a white-framed window. From the same position as the photographer I looked through both models at this window (so fairly close to the sun), both with and without spectacles, to assess them for glare, which is what we call non-image-forming light. Cutting a long story short, whereas SF showed only a small area of glare (which was transparent), NL produced large areas (up to 50% of the field of view) of milky glare which could be made better or worse by small movements of the binocular in relation to the observer's eyes. While the circumstances of my investigating the production of glare in these models could be described as 'artificial' I contend that viewing towards strong sunlight (but never directly at it) often happens when looking at birds high in the sky, and a similar situation often occurs when observing over lakes and the sea with sunlight reflecting off the water. My experience with NL convinced me that the various complaints we have seen on Birdforum that NL is a 'glare-monster' do have a foundation in fact. The variability of these reports is also borne out by my findings that small changes in the position of the observer's eyes in relation to the binocular's exit pupil can have a big influence on the size of the area of the fov that is rendered useless by the glare. Spectacle wearers should note that unlike the eyecups fitted to SF, those on the NL slipped and slid around very easily on spectacle lenses from two different brands, making it all the more likely the NLs would easily move inadvertantly in field conditions and expose the glare.
In my opinion, at least as problematic as the glare issue, is NL's speed of focusing. I have a standard test for estimating the focus speed of binoculars and that is to focus first on a building that is 4km (2.5 miles) away from our house, and then estimating the number of turns of the focus wheel it takes to refocus onto a point 2.0 metres from where I sit at my computer.
As a background, let me first use Zeiss HT 8x42 as an example. This model takes 1.2 turns on my test and I find this fast enough in Scotland and in most of England given the biodiversity (number of species of birds, dragonflies and butterflies etc.) in these areas. In a few places in England and certainly in the big wetland habitats in mainland Europe (where the biodiversity is much higher than in the UK) such as De Groote Peel in the Netherlands and near Vendres and Narbonne in the Languedoc of Southern France, HT struggled to get me refocused from near to far and back again in time to capture views of small birds or dragonflies nearby followed by Harriers, Herons, Terns or Egrets in the distance and then back to a nearby butterfly. I was simply missing too many views of some of these as I was spending too much time pumping the focus wheel.
Now, NL 8x32 took 1.4 turns in my test (so is significantly slower than the HT) whereas the SF only took 1.1 turns, which is a small but useful improvement compared with HT. For me, the SF's speed is a good balance between speed (in some habitats) and precision of focus (in other places), but the NL, with a focus speed around 30% slower, is simply too slow for me. Of course other observers in other places may have a quite different opinion.
Finally, I found the rainguard too tight around the eyecups, making it tricky to get it on and off quickly in the rain. Moreover, when pulling off the rainguard it quite often pulled up one of the eyecups out of position. And as for the Field Pro strap, it seems perversely complicated to me but at least Swarovski include adaptors to allow a standard strap to be fitted.
Overall then, my take on NL 8x32 is that it is a flawed model with great optics let down by its tendency to glare and the slowness of its focus. For now SF 8x32 remains the top choice of my binos.
Lee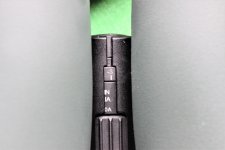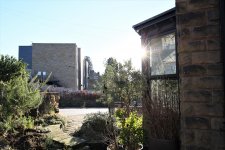 Last edited: