Wishing birdwatching paid the bills.

I'm silly enough to have both of swarovski's highest transmission and largest exit pupil binoculars at the moment. A habicht 7x42 GA 96% transmission 6mm exit pupil and a 8x56 SLC hd with 93% transmission and a 7mm exit pupil. I thought I'd just pop up a few things I've found having used both extensively in case anyone thinking of giving them a go for birdwatching.
They go about achieving a good view in very different ways, which may suit some birders more than others.
The habicht is a very traditional porro prism binocular it's been around since 1947, armoured in this case and waterproof, with straps and caps it weight in around 850 grams. It has as far as I can see 7 glass elements per barrel, a cemented doublet objective, 2 prisms and a 3 element eye piece, all the glass elements have the latest coatings and the prisms reflect the image upright through total internal reflection - no mirror coatings. The field of view is narrow at 114m at 1000m but perfectly useable, there's very little chromatic aberration in the field, although due to its simple design and lack of field flatteners the field is only sharp in the centre. Adjustment wise there's not much, fold down rubber eye cups, a central focuser and a diopter adjuster in the right barrel, eye relief is short again due to the simple design, not a good one for glasses wearers.
The SLC hd is bang up to date, released in its current guise in 2013. Armoured and waterproof with straps and caps (including objective caps which the habicht doesn't come with) it weighs in around 1350 grams. There's much more glass involved than the habichts 12 elements per barrel and these are bigger too with the 56mm objectives. These include field flatteners, high flourite glass in the objectives and a much more complicated eye piece design. This time the prisms are abe konig giving the binocular a straighter but longer form, again they reflect the view upright with total internal reflection. The field of view is much wider at 133m at 1000m despite the 1x increase in magnification, it's both useable and immersive. Thanks to the field flatteners the view is sharp pretty much to the edges although chromatic aberration does creep in more quickly and significantly than with the habichts but only off centre. There is a lot of adjustment so set up time to get the most out of them is a lengthy process, the usual diopter although this time built into the focus wheel which clicks out to reveal the scale and can't be moved accidentally, twist out eye cups and the usual focuser and ipd adjustment. Eye relief is huge, you could probably use them wearing 2 pairs of glasses!
I've hiked the isle of skye for 3 days with the habichts, climbed Snowdon with the Slc's round my neck and spent many hours using both in a variety of habitats. Your view may be different to mine but this is what I've found comparing them.
For me both offer similar daytime brightness, maybe a slight advantage to the habichts or maybe my eyes have read the specs and are seeing what they've read! There's not much in it. When it gets really dark there's nothing in it between them for me, I'm 38 with good vision but I suspect my pupils only dilate to a maximum of 6mm so really can't use the extra exit pupil of the slc's, if you download the study linked here you can see if you'd likely benefit for that 1mm increase
Factors affecting light-adapted pupil size in normal human subjects. | IOVS | ARVO Journals
.
The difference in magnification of only 1x doesn't manifest itself greatly in terms of how much detail you can see centre field however the stability and depth of field with the habichts is noticeably better, for me there equal in ability to i.d a bird centre field, to clarify I found them equal when you can see a bird naked eye and want to i.d it.
Off centre when your scanning an area for birds you can't see naked eye, or for example if an elusive avian has dived somewhere into a bush or tree the slc's have a distinct advantage. The wider field that's sharp to the edges means you will generally find that bird faster with them.
Handling wise is probably where the biggest differences come between them, let's go from one end to the other. Eye pieces, if you don't wear glasses you can just chuck the habicht up to your eyes, no messing, just set the ipd and dipter and your good, they both have proper scales too so it's child's play to set up if your sharing them.
Slc's are a different beast, there's much more adjustment, it takes great care and some time to get everything set just so, if not done correctly you could easily think they were terrible. Eye cups and ipd in the wrong position - kidney beans and glare will be your only friends. There is a scale on the diopter but not any really useful one for the ipd, I have to just obscure the bridge of the letter A in Austria to get my ipd right. Not so good for sharing and time consuming to set up, get it right and there mega.
Focus wheels? There both great, well weighted and accurate. The habichts is a little heavier but smoother, the slc's is lighter and smaller with a slight feeling of more friction, like rubbing 2 bits of paper together. The habichts focus usefully closer than the slc's to a degree that even when birding is a useful difference - you can't focus on your own feet with either like you can with some.
Form factor is classic porro with the habichts, this is good and bad. For viewing and focusing at the same time I find the wider spaced barrels of porro's easier to point, more contact between hands and binocular as well for me. When going for maximum stability however moving your hands to the objectives is a jump, forget about using the focus at the same time, when there though stability is great.
With the Slc's there's been a great deal of work done on the ergonomics, the barrels have really deep cut outs underneath, there not actually that much wider than an nl in the regular hand position next to the focus wheel. Moving down the barrels is also easier, no big jump in hand position, it's also just possible to hold near the ends and move the focus wheel, partly due to the shape and partly due to the lighter focus action.
Weights as stated, if you don't like it, don't get the SLC! I personally don't find it at all inhibiting but I do a physical job, plenty will find them too heavy.
Does any of this make a difference to getting on a to bird on the wing, I tend to think so, even with the narrower field of view I find it easier with the habichts due to the more stable hold when using the focus and (although not really handling!) the greater depth of field.
These glasses are designed with low light viewing higher than some on the priority list, just before you get there though a low sun may come into play, so how do they cope with glare? Both are excellent, really really good, no milky wash outs or crescents really inhibit either. Once set up I find the slc's slightly better despite there less recessed objectives, neither is anywhere near bad.
So there a hefty investment either way- how tough are they to keep that investment delivering? I think the habichts are tougher and in all likely hood easier to repair, there just as well armoured, if not better, and there's less weight behind them when they do hit something, the objectives are also further recessed and without twist out eye cups there's less to go wrong. Neither has come to harm in regular use though or got any worse over time.
So in summary which is better? Honestly there just different compromises, I prefer the slc's but I can comfortably carry them. It just depends on your personal priorities. For me I'm just glad to have a binocular with me that will perform in all lighting conditions better than almost any other.
Swarovski deserve a great deal of credit for producing 2 so distinct but capable choices for a variety of users priorities.
I really enjoyed testing them and writing this!
Will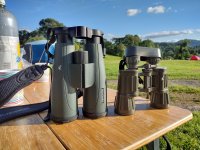 Last edited: