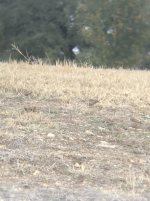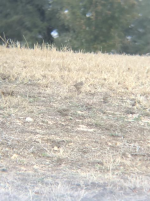 Sorry about the picture quality, the camera couldn't seem to find them to focus on. These guys were at Berry Springs, which is an area that has some prairie restoration efforts going on around it. They have a few acres of prairie grass and the like, near a river.
These little guys were about the size of sparrows. I could see maybe 30 of them at once. The really interesting thing was that they were walking around, like doves, instead of hopping like sparrows do. Does anyone have any idea what they might be?
I'm going to try for a better photo today (the park is open enough to easily not get close to anyone else), but I don't know if I'll be able to find them again.