Today I went out to visit El Molar again, still not over what happened last time. Last time, I tried and failed to get photos of a common cuckoo in the area, just being content with its (beautiful) calling. Although El Hondo attempted to compensate, with a short-toed eagle perching obligingly on a tree on the way to the visitor center
And a great spotted cuckoo locating me and spending the next 5 minutes sitting within 10 meters of me and just flying back and forth, I couldn't help but say that I had been cheated out of my main target (these photos also show how phenomenally bad the autofocus of my old camera is, otherwise capable of 126x zoom)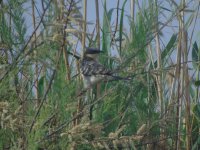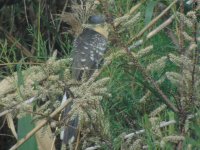 So today I went back, stopping along the way to photograph some pratincoles at El Pinet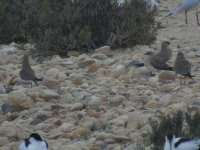 And spending a few minutes being supervised by a Colin-like woodchat shrike which was really getting close to me.
I heard the cuckoo after I had seen it and purely by instinct snapped a photo of it before it flew off at a distance of at least 100 meters near a construction site. I tried to relocate it, but then it was flushed from a nice perch by a construction worker.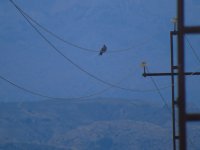 I spent time trying to relocate it, and then it suddenly appeared and flew across the road less than 20 meters away. Perfect photo conditions. Had I had my new Canon, I would have right now been bragging about getting excellent in flight photos of the cuckoo due to how close it was. My DSLR's focus failed to focus on it, however. Again!!!! "Fortunately", the cuckoo flew about a hundred meters away and sat down to perch, and I was able to get a bit closer by using a parallel road before it flew off to another perch.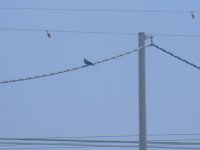 Not quite good enough. I spent time trying to see it, but failed at every turn today. Sometimes cuckoos are showy, even, perhaps, very unusually so. A photo I took last year remains my favourite, though I did also take an infuriating photo which would have been a lot better had those leaves just not been there in 2018:
Cuckoos are incredibly hard to photograph. They are very shy and elusive (though rarely forget all about that, like at Weston Fen in 2022 when a male cuckoo picked a fight with another one right overhead), and quite small, and at a distance recall pigeons and doves, especially in poor light.
In my opinion, cuckoos are the hardest birds to find and photograph. Even harder than golden orioles. And these are awful as well. And yet 2023 is now the 6th year running I am unable to get any good photos of cuckoos. My favourite is that, from Upton Broad last year: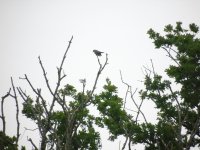 I need nothing short of a miracle in my eyes to get the photo I hope for in Spain (but which would have happened last year had I had a different camera). Otherwise, I'll visit Colin in Surrey with a bag of mealworms. Here's hoping he returns from migration.