There are few threads to phonescoping with, what seems, some reluctance from many to accept the real benefits and buzz you can get from experiencing it. I appreciate that for moving targets its difficult to get a good shot but the thrill of using a high magnification zoom with a smartphone zoom and getting good results at very long distances, is very satisfying.
Yesterday I took this photo of Canada Geese at about 150 metres at 40-50 zoom, 4 x on the phone, and got a really sharp shot:
Today I was on the Severn Estuary, just managed to see Curlews with 10x42 binoculars 250 metres away and thought I'll never get a decent shot. It was windy and raining so I tried at 75 zoom on the scope with 8 to 10 zoom on the phone and got this: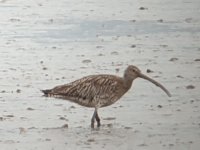 I was pretty pleased. It's not brilliant but it was 250 metres away and the weather wasn't good.
The main reason for posting is that phonescoping enables you, with the smartphone screen, to see such a wide view of subjects at long distances with excellent clarity. Admitedly your eyes are your first tool then the binoculars but once you've focused with your scope ....the phone takes over. I never feel fully comfortable scanning with a scope but having your phone as a TV screen is easy and rewarding. I rarely see Birders phonescoping....with cameras there are loads but the distance advantage with a scope, surely makes it an interesting candidate. There's no setting the phone up - it's all done for you.....they are now so sophisticated and the mega pixels available is rising all of the time.
Worth considering ??
Last edited: