Ospreys are amazing birds aren't they !?!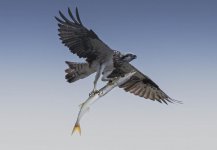 Photo by Christine Georgio
Sometimes I feel that the massive Eagles slaying foxes, kangaroos, and monkeys etc, the Powerful Owls, the Top Gun Peregrines, or even the shadowy Hawks, or zippy little Falcons, seem to get all the press .... meanwhile the Osprey just quietly and efficiently goes about its business.
I'm always amazed at how aerodynamically efficient they are, in the way that they seem to "surf" their prey as they fly away with it. (as indeed the rather lesser shot in my gallery is titled !
https://www.birdforum.net/gallery/showphoto.php/photo/510539/ppuser/92780
This picture by Christine Georgio, of a 2ft + (very toothy !) Pike is the largest prey I can recall seeing an Osprey with. Has anyone seen one fly off with larger prey? Feel free to post some pics ....... :cat:
Story here:
https://www.adelaidenow.com.au/news...IHJD0AWboJbDmeTx_T_OGZKgDN7DU1-3XgpL-BXvAXlR8
Chosun :gh:
Last edited: