Chengdu Bird guiding –
[email protected]
- Chengdu, Sichuan, the gateway to Tibet - to see more travel pics of Sichuan go to my travel blog at -
http://chengdutravel.blogspot.com/
To see more of our birding pics go to -
http://sichuanbirds.blogspot.com/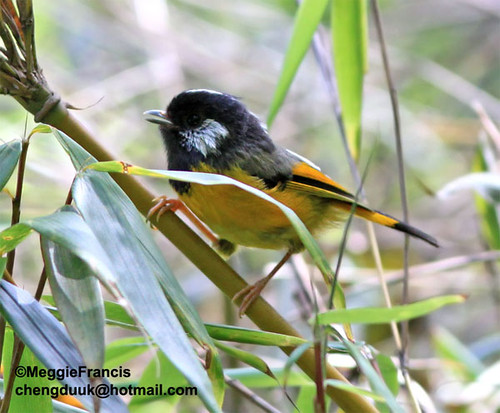 Golden-breasted Fulvetta - a little stunner of a bird. They seem to spend most of their time skulking in bamboo at mid elevation heights - around 2,000m, in areas that match to broad-leaf forest zone - other good locations to find them are on the track up the ridge to Wuyipeng (Wolong), and around the level of bottom cable-car station at Wawu.
The trick with these - and so many other Sichuan skulkers - is to try and generate inquisitive behavior or indeed blatant aggression. It's again a matter of phishing or calls. The whole process got his little chap to kick up a right old noise; it got rather riled - I think he was out looking for a fight! Glad these Fulvettas are just 10cm long - if they were any bigger we'd have to wear hard-helmets and ear-protectors.
Tangjiahe is another Panda reserve in N Sichuan - and a good choice of destination, together with Wanglang, if you're thinking of doing the Jiuzhaigou circuit.
This place was also hit by the quake - and some of the cliff faces have sheared into landslide - but the majority of the habitat is unscathed.
With landslide and clearing work at the park and the general poor state of some access roads that leads into the area from outside - the park was closed - but, happily, this summer it's been open again. With the post-quake work - the park has taken the chance to carry out major renovation to roads and hotel facilities, which has caused a little roadside mess and building work - but it really isn't that bad. As compensation for possible disturbance - at the moment - they're not charging an entrance ticket (the old ticket price was 55RMB - it'll be interesting to see if this is changed at repair-completion re-opening).
I'm afraid that they've also taken the chance to knock down the hotel buildings that gave budget accommodation - now the cheapest room is around 300RMB a night (Meggie bargained it down to 238RMB).
They have some Mongolian Tents (yurts - not the real thing - but a tourist type model) - that were donated to the park during the quake. These donations were offered at 150RMB/night - but I suppose its better than just letting them rot in a corner.
The food is more than okay - prices for this reasonable.
As for getting here - well driving direct to Tahgjiahe from Chengdu can be done in 5 hours, even though you have to drive on a lot of road that's still undergoing quake repair. The construction gives potential for jam and landslide during wet-weather. Of course as the repair gets further along - and there are a lot of folk working on this stuff - the easier it will be to make a quick drive to the reserve. To get between Tangjiahe and Wanglang - that look pretty close on the map - you have to go on another road that is being re-built - it should take about 3 hours - but took us at least an hour longer - again time will improve this situation.
Great Spotted Woodpecker - on this trip we had a couple of mornings with rain, which, typically, at many summer humid Sichuan sites produces fog. In such circumstances a little birding around the Hotel can pay dividends - and we actually got this male bird in a tree just across from our hotel bedroom window. Our Great Spotted Woodies have a lot of grey on the white face patches.
You also see that the sun is starting the come out and it's time for us to make a move.
The great bird for the park is Rusty-throated Parrotbill - a species that seemingly was lost at Jiuzhaigou - the one location where modern-day sightings had been made - due to Bamboo die-off. However in 2007 it was rediscovered at Tangjiahe. Here's the bird forum thread that announced the birds were once again with us -
http://www.birdforum.net/showthread.php?t=92968
Apparently the best place to see these birds is to take the right hand driving track all the way to its end - and then climb the paths that lead to the top of mountain area called Da Cao Tang (which means big grass plateau) - as you go high, then those Parrots should be in the Bamboo. As for us - well we got over half way - but wasted the whole morning climbing up the wrong path which soon resulted in no path. Our false start was caused by the fact that the beginning of the proper path is no longer obvious - and it took quite a bit of tramping about to get us on the right track. At least now, with all our explorations, we've got it all clued out for our next trip!!!!
We did get Barred Laugher, Chinese Babax, Temminck's Tragapon and Koklass Pheasant during the accent - but every time we got to promising bamboo and tried to call in Parrotbills we were set upon by infuriated Golden-breasted Fulvetta!!!! I guess we just weren't high enough.
By the way - at the top - which should only be a 3 hour trek if you're going quickly, and not too loaded with bags/equipment - there are also Monal and the Rusty-throated Parrots keep company with Spectacled. You can overnight, free, in a hut - which has water but no food - take a good sleeping-bag.
Hopefully we'll do this area sometime during - winter. Sometimes higher altitude birds are more obliging during colder periods.
Crested Kingfisher - the rivers of N Sichuan seem to be favored by this species - and this was another bird we could see from our Hotel.
As ever black and white birds are horrors to photograph - but this one didn't come out too badly.
Takin - the park is famed for this species of Goat-Antelope. They're pretty big - and they do match up a little to a description, I've read on another site, calling them a Moose with Bee-sting nose. However those odd horns aren't very Moose-like - but they can be used in acts of aggression - so keeping a safe distance is important (local advice gives 7/8m as the safety zone - which also seems a tad close).
We had a river between us and this guy - hence Meggie's steady hand with the picture taking.
The park roads run through all the lower areas - you have to climb by foot if you want higher. In the past people lived here (300 or so folk were moved out when they created the reserve) - so the forest doesn't have quite that virgin primeval feel you get at Wanglang. But its a great place for birding - and it's a good site for another Sichuan favorite - Golden Pheasant - although, as normal, hearing 'em is far, far easier than seeing 'em.
Meggie the great Parrotbill hunter is certainly looking forward to getting back - she has those Rutsy-throated Parrots to polish-off!!!!!!!!!!!!!!!