When we refer about the compact Trinovid series we have to refer to exactly which model we are referring to, because they are very different optically due to the improvements of the anti-reflection layers over the years. It's like some old Swarovski models: with or without Swarodur coating.
All three Trinovids have an overwhelming simplicity of design and top notch mechanics in the smallest size you can have!
The 1988 version amazes me with its elegance, natural clarity during the day and a very comfortable pleasant image for such an ultra-compact binoculars.
The new variants have even higher optical performance, with a brutal clarity, I would say almost unnatural clarity.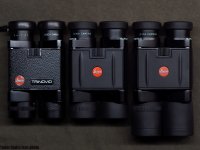 Below is a comparison of three Trinovides
Leica Trinovid 8x20 BC (1988)/ Leica Trinovid 8x20 BCA (2020)/ Leica Trinovid 10x25 BCA (2007)
Construction and technical aspects
Bino 8x20 BC/ 8x20 BCA/ 10x25 BCA
Finish and Design 3/2 /2
Field of view 3/ 3/ 2
Eye relief 2/ 2/ 2
Min. focus distance 3/ 3/ 2
Weight 220g/ 225g/ 250g
Scores 11*
/
10*
/
8*
Optical performance
Bino---------------------------------------------- 8x20 BC-----8x20 BCA------10x25 BCA
Center Resolution (same target distance) 1/ 2/ 3
Border Resolution 2/ 2/ 2
Contrast 1/ 3/ 3
Brightness during the day 1/ 3/ 3
Brightness in the dark and at night 1/ 2/ 3
Flare resistance 2/ 2/ 2
White rendering 1/ 3/ 3
Chromatic aberrations 3/ 3/ 3
Distortions 3/ 3/ 3
Optical score 14*/ 23*/ 25*



Total score 25*/ 33*/ 33*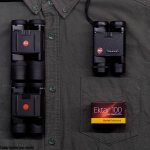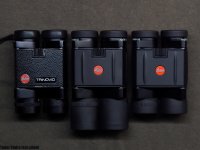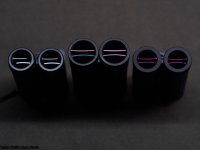 Last edited: