The Zeiss SFL 8x30 compared with select current 8x30/8x32 roof binoculars

PART 1: General comments and comparison of data


"Merlitz Distortion"
– doesn't ring a bell ? Well, it better would, since this term tells you why panning with the SFLs is as comfortable as has been reported by reviewers.
Holger wrote in a German optics forum about Zeiss informing him that they had considered his work on distortion when designing the panning-friendly distortion profile of the SFL (see
Distortion and globe effect in binoculars
, or read Holger's book).
Good news for Holger, but also good news for all of us if annoying "moustache" type distortion profiles that have proliferated recently were to become a thing of the past and binocular optics designers were taking into account expert work by people like Holger.
No proper review of the SFL 8x30 to follow hereafter
(there are some useful first reports by HenRun, Swissboy and others out already, and Lee promised to give us a detailed account of his experience with the SFL on Islay in April, and I am looking forward to that!)
Instead, I have for my own benefit (I like to understand
why
"things are the way they are") put together a few comparative data about the SFL and some of its competitors: a selection of 10 current compact roof 8x30/8x32 models which I find good, whether "alpha" or not, some much cheaper, some more expensive than the SFL. Seems to me that the data explain at least part of the market success of the SFL (as given for the x40 models, and expected for the x30 ones), and the early positive reviews seem to confirm this.
Comparison of Specifications
In form of a table:
attached
And "rankings" discipline by discipline:
Weight (without accessories, according to specs)
Nikon Monarch HG 450 g
Zeiss SFL 460
Blaser Gobetrotter 475
Swarovski CL Companion 490
GPO Passion ED 520
Leica UV HD+ 535
MeoStar B1 Plus 595
Zeiss Victory SF 600
Zeiss Conquest HD 630
Swarovski NL Pure 640
Leica Trinovid HD 630
Weight (with eyepiece cover and neckstrap, measured)

Zeiss SFL 534
Nikon Monarch HG 543
Swarovski CL Companion 559
Leica UV HD+ 603
GPO Passion ED 610
Blaser Globetrotter 622
Zeiss Victory SF 673
MeoStar B1 Plus 685
Zeiss Conquest HD 697
Leica Trinovid HD 730
Swarovski NL Pure 783
Focus Speed (degrees of rotation of focus wheel from 3m to infinity)
Zeiss Conquest HD 165 degrees
Blaser Globetrotter 170
Zeiss SFL 180
Nikon Monarch HG 185
Leica Trinovid HD 195
GPO Passion ED 230
Leica UV HD+ 260
MeoStar B1 Plus 280
Zeiss Victory SF 310
Swarovski NL Pure 385
Swarovski CL Companion 400
Technical Eye Relief (according to spec.)

Z
eiss Victory SF 19 mm
Blaser Globetrotter 18
Swarovski NL Pure 18
Zeiss SFL 18
Leica Trinovid HD 17
GPO Passion ED 16
MeoStar B1 Plus 16
Nikon Monarch HG 16
Swarovksi CL Companion 16
Zeiss Conquest HD 16
Leica UV HD+ 13
Useable Eye Relief (measured from rim of eyecup)

Zeiss SFL 17 mm
Swarovski NL Pure 16.5
Zeiss Victory SF 16
Nikon Monarch HG 15.5
Leica Trinovid HD 14
Zeiss Conquest HD 14
Blaser Globetrotter 13.5
MeoStar B1 Plus 13.5
GPO Passion ED 13
Swarovski CL Companion 13
Leica UV HD+ 12
Minimum Focus Distance (measured)
Leica Trinovid HD 0.95 m
Zeiss SFL 1.5
Zeiss Conquest HD 1.5
MeoStar B1 Plus 1.65
Nikon Monarch HG 1.65
Blaser Globetrotter 1.7
Zeiss Victory SF 1.95
GPO Passion ED 2.0
Swarovski NL Pure 2.0
Leica UV HD+ 2.1
Swarovksi CL Companion 2.95
Real Field of View RFOV (according to spec)
Zeiss Victory SF 8.9 = 155 m / 1000m
Swarovski NL Pure 8.5 = 149
Blaser Globetrotter 8.3 = 145
Nikon Monarch HG 8.3 = 145
Zeiss SFL 8.1 = 142
MeoStar B1 Plus 8.0 = 140
Zeiss Conquest HD 8.0 = 140
GPO Passion ED 7.9 = 139
Leica Ultravid HD+ 7.7 = 135
Swarovski CL Companion 7.6 = 132
Leica Trinovid HD 7.1 = 124
Apparent Field of View AFOV (spec. where available, otherwise measured and rounded)
Zeiss Victory SF 8x32 67
Swarovski NL Pure 65
Zeiss Conquest HD 64
Zeiss SFL 63
Blaser Globetrotter 62.5
GPO Passion ED 62.5
Nikon Monarch HG 62.5
MeoStar B1 Plus 61
Leica Ultravid HD+ 60.5
Swarovski CL Companion 58
Leica Trinovid HD 53
As the data above indicate, the SFL is well positioned among its "colleagues", always in the first half of the group and sometimes at the top (weight, usable eye relief) or almost at the top (focus speed, minimum focus distance).
Some immediate impressions:
Color fidelity is high, even if the image appears to my eyes just a tiny bit cooler in the 8x30 than in the 8x40; otherwise image characteristics appear very similar to me


Usable eye relief (17 mm) is clearly more generous than anticipated and more generous than in the SFL 8x40


As reported by HenRun and others, proper adjustment of eyecups needs slightly more attention than in the 8x40 model, and


If done properly, CA should be at a comparably low level as in the 8x40 (higher amounts of CA may result depending on eye placement)


Stray-light control is good for such a small bino, and spikes on bright light sources are minimal


Some have reported less than soft focus on the 8x30 – in my sample, focus has just the right resistance and is smooth and precise
A few additional thoughts, fwiw:
Overall, the x40 SFL models have received very positive ratings. The owner of one of the best optics shops in Switzerland told me regarding the x40 version that he had "been waiting for a long time for such a binocular" – compact, lightweight, well built, with excellent image features (good color fidelity, great panning characteristics, low CA) and no major apparent flaws, all at a more affordable price than the top of the market models. Could well be that this is also true for the smaller x30 models; early comments and reviews seem to confirm that.
With the 8x30 and 10x30 SFL, Zeiss seems to follow the path it has started with the x40 models: bringing a compact and lightweight binocular to the market that does not try to "outperform" competition with even more field of view or edge sharpness or transmission (probably giving up some profit because of the high R&D cost), but which instead convinces as an overall package. With no immediately apparent major flaws - e.g. regarding CA, straylight etc. -, the SFL appears to be a very good compromise between mechanical and optical performance, weight, size, ergonomics and price. I find nothing especially "smart" about its focus, but focusing works extremely well indeed (smooth, fast and precise). I don't find the image particularly "ultra highly defined", as Zeiss claims, but the combination of excellent color fidelity, color saturation (without the hue typical for the UV), good contrast and large sweet spot produces in my view a very pleasant image. And very importantly: I am not sensitive to the globe effect and odd distortion profiles, but I found panning with the SFL extremely satisfying, compared to many other binos, esp. flat field ones.
PART 2: Brief side-by-side comparisons
{{ to follow }}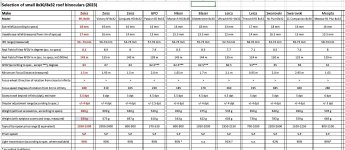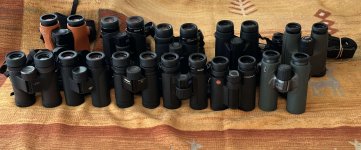 Last edited by a moderator: