The celebrated Spotted Eagle Tonn arrived at his wintering grounds El Hondo in Spain on 17th December 2017 for the tenth year having travelled nearly 4800kms from Estonia.
http://birdmap.5dvision.ee/en
http://www.finesystem.co.uk/birdwatchingcostablanca/sightings.html
But he's more than three and a half months later than his earliest arrival date. The rigours of raising a family taking it's toll - or some other factors?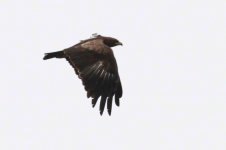 A photo from his journey through France (25th Nov 2017)
and another from El Hondo (17th Dec 2017)
Is he missing primaries? Could this explain his late arrival?
Does anyone know when GSE typically moult?