I have been using Topaz's Denoise and Sharpen for a while, and both are good tools for cleaning up shots especially for birders, when we have to go to very high ISOs or deal with a little motion blur. I recently picked up Gigapixel AI to see if it could do what I hoped, which is take shots that were fairly heavy crops, therefore low resolution and/or missing fine details, and try up-rezzing them with an intelligent enlargement tool. Normal enlargement doesn't create new pixels to build up a shot - they just enlarge the pixels there, or duplicate them. The newer uprez programs like Gigapixel claim to do a more intelligent job at predicting and calculating those additional pixels in the enlargement so that you can get more resolution that's close to the original pixels - and can be resized back down to reasonable sizes for nice detail and sharpness improvements, removing noise, and even processing as if it were an original photo - brighten, white balance changes, etc.
My typical workflow was to take shots that involved heavy crops - where the bird was a small part of the frame, and see if I could get a photo that had a reasonable resolution for display or print - at least in the realm of 6-8MP...many of these after the original crop would have been down to 3-4MP. I used Gigapixel to enlarge them 4x, then resized back down to the 6-8MP range. I also had a few shots where the final crop might have been around 6MP, but were a little soft or lacking in fine detail...I used the same process, enlarging to 4x and resizing back down. In all these cases, I was working with JPG originals, not RAW. The results have been impressive. Some examples (I have resized all of the shots for posting online, so the originals were all in the 6-8MP I mentioned - I resized them to no more than 1800 pixels on the long side for this thread):
Original of a blue grosbeak - fairly far away and simple crop yielded low resolution and not much detail:
Gigapixel 4x, then cropped and touched up:
Black-whiskered vireo - after original crop, resolution was OK, but overall shot was still soft, even after applying Unsharp mask...more sharpening was resulting in artifacts and halos, so it wasn't worth pushing too much more:
Took the same crop above, Gigapixel applied at 4x, cropped a bit tighter and resized for end result with more resolution, plus better details in the feathers and patterns:
American robin...cropped...OK, but still not crisp on the details: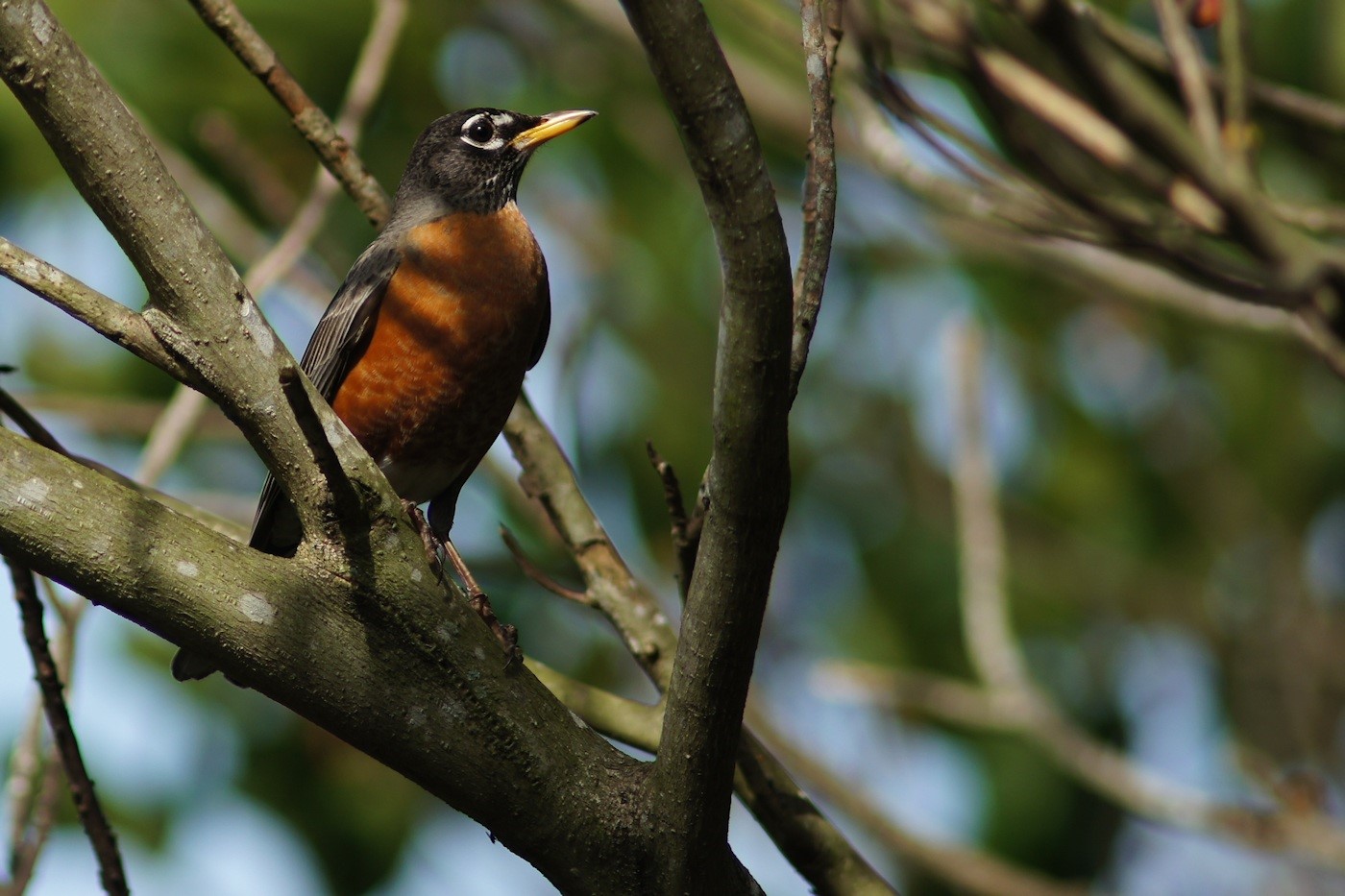 Run through Gigapixel at 4x, resized back down, a little touch up on contrast, tighter crop, more details and sharpness, and more resolution than the original crop:
A very rare sighting for me in my area of Florida - a vermillion flycatcher...despite good gear and lens and a 24MP APS-C sensor, the bird was extremely distant and I had to crop very heavily just to get this at around 3MP - it fills the frame well enough, but I couldn't sharpen it too much more without lots of artifacts - and some areas in the red feathers and around the eye just didn't have enough detail to sharpen: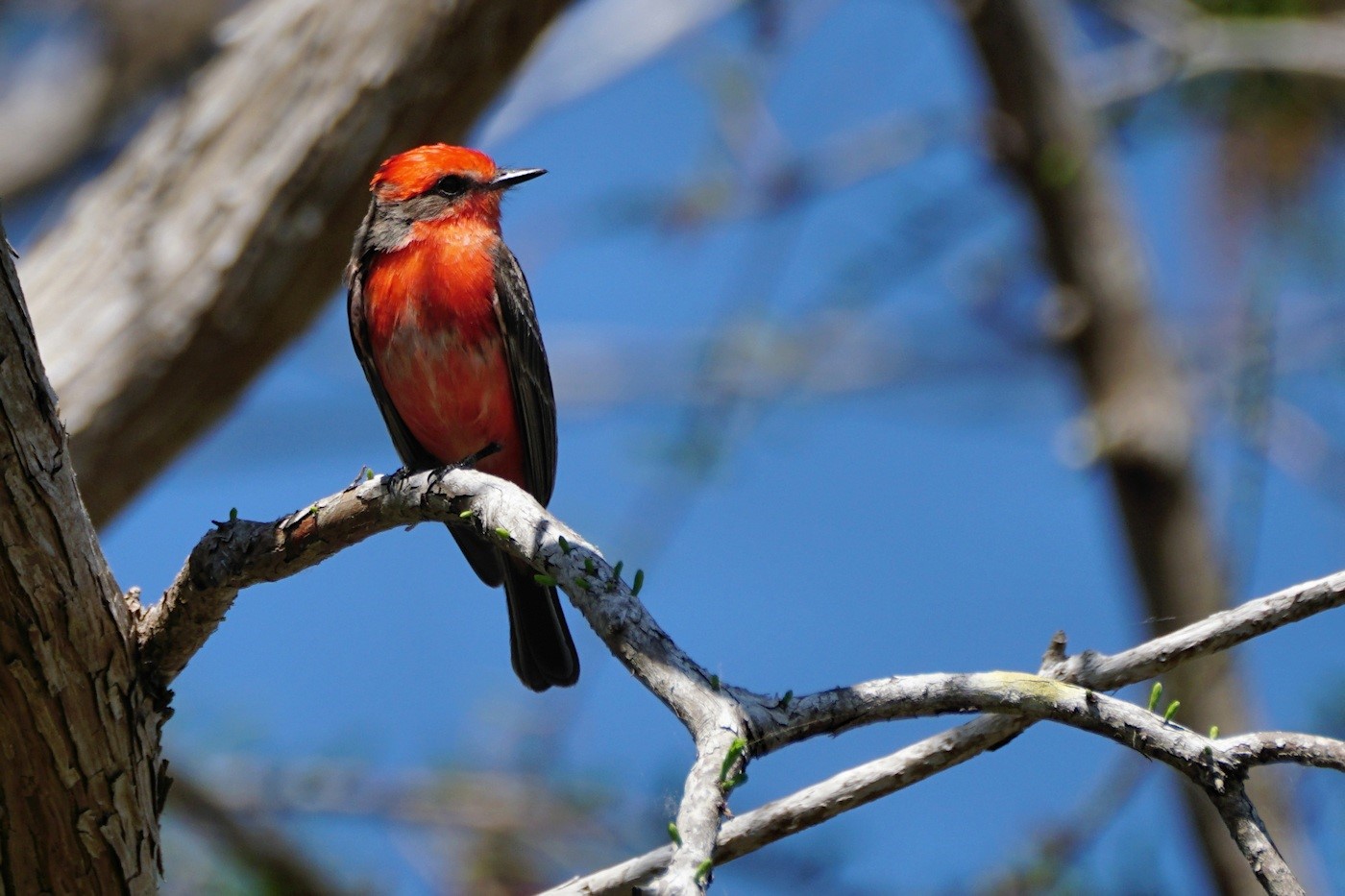 Gigapixel, 4x, then resized - I kept the original crop, but was able to increase the final photo to 7.2MP, bring up the shadows a bit (and have actual detail in them instead of muddy shadow noise) and still get better details and sharpness in the bird:
Just wanted to share a few examples in case any other birders are dealing with having to crop a lot, and ending up with small resolution, low details, or soft shots that they want to not just resize larger, but have better details. It's an interesting tool (I am not affiliated with the company and won't pitch any links to get me reward dollars for purchasing). Even for shots taken with P&S cameras and small sensors - it works - this shot was taken with a P&S camera in 2005, a 5MP small sensor camera with a 5x zoom: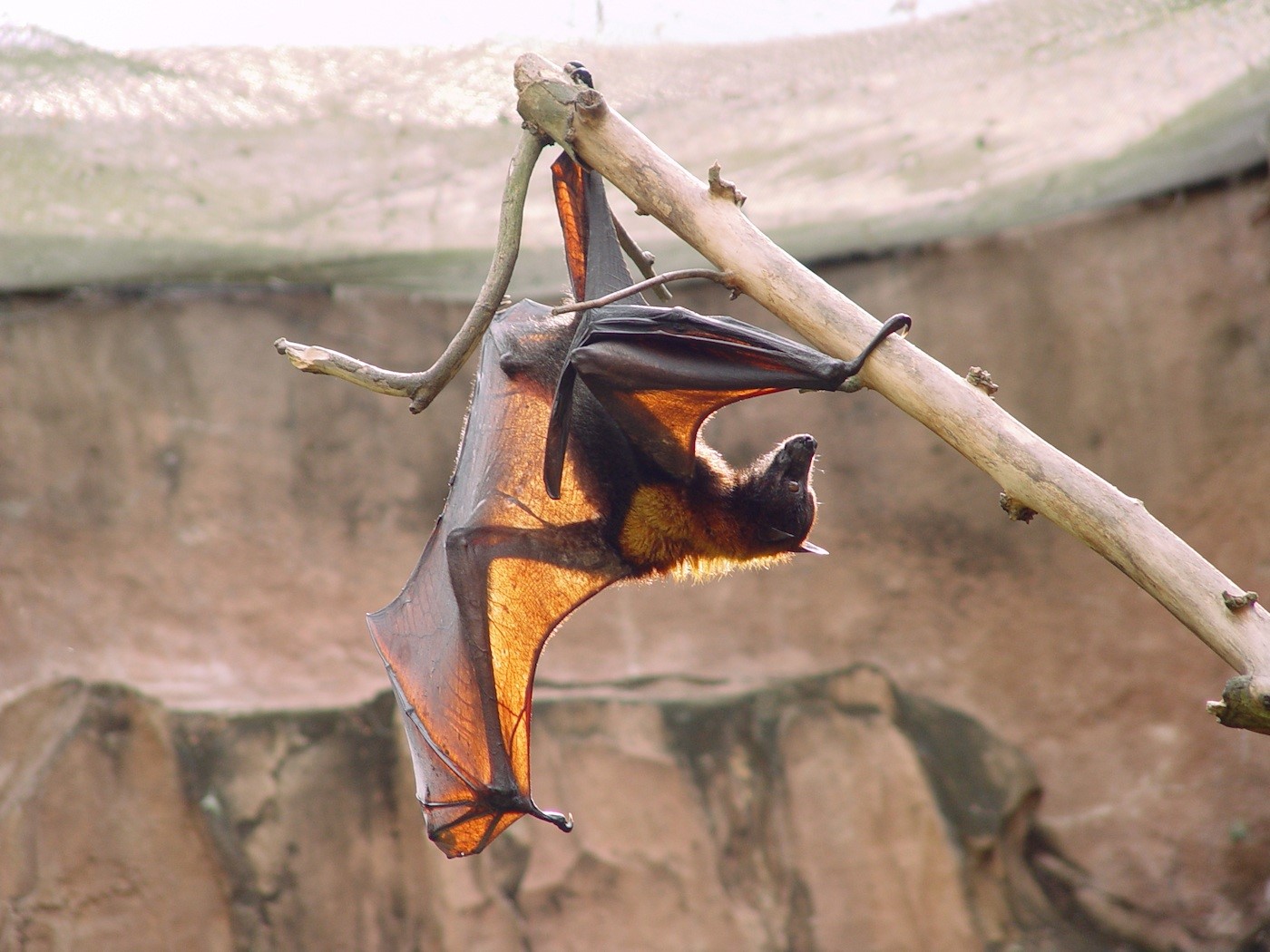 I ran through Topaz 4x to up-rez to 20MP, then resized back down to 8MP - the end result had a tighter crop, more resolution and a larger print size, plus better details and sharpness:
Happy to answer any questions, or provide any details on the shots or samples above. Just wanted to provide a little info for any bird photographers who might not know about the software. They do have full-function 30-day trial downloads available on their site if you wanted to experiment with it.