Hello!
I'm new to the forum and scope-birding in general, so I apologize in advance if this is a very basic question!
I've been having trouble with my tripod head lately (
https://www.birdforum.net/threads/problems-with-mhxpro-2w-tripod-head.406744/
) and am considering buying a new one entirely. If I do decide to buy a new tripod head, it seems like it would be nice to get one that directly accepts the foot of my scope, rather than needing to mess around with quick-release plates. Which is another area that I am confused! In the product manual, Vortex says that this scope has an Arca-Swiss Foot (photo attached.)
But then in a promotional YouTube video, they say that the foot is RC2 compatible.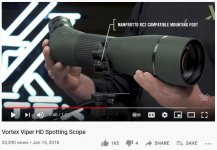 So is it Arca-Swiss? RC2? Or is it both? I don't quite understand the world of quick release systems yet. I feel like I need to understand this to know which tripod heads I could buy.