Last week hiking i saw a beautiful bird that sparkled my interest and i really have to know which bird it is.
The bird is of medium size and has pink-white stripes. The pink was so bright that i barely believed its an actual bird! The color was as pink as the mountain flowers there (like these)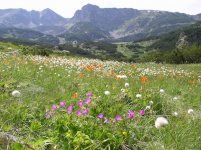 We saw the bird at a height of 2500 in the rila mountains close to the peak of Voden Chal, sitting just besides some of those pink mountain flowers.
Our closest guess would be a wallcreeper, but this bird had unmistakenly a very distinct pink, not red like a wallcreeper is. Also it was striped pink and white, and seemed to have a lot less black that a wallcreeper has.
Any ideas what it could be? It was the most beautiful bird I've ever seen so cant sleep before i know what we saw.