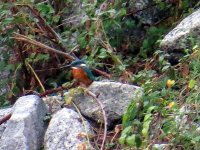 On Monday November 2 at nine and a half I left from Madrid Río Park end to Parque Lineal del Manzanares, its continuation. I saw two Black Redstarts fluttered beside the river, a magpie and a string of cormorants on lampposts of the M30 motorway.
At the end of Madrid Rio, the river again becomes a river, not an ornamental channel: the river has banks again and river banks mean herons, as the first two grey heron I saw.
Some starlings were on a small tree in a field next to the train track.
And on the right bank of the river I found some wood pigeons that are already converting themselves in domestic pigeons since They seemed to have slept on the railing of a roof.
A lot of rabbit holes in the south junction of the highway.
Already in Parque Lineal del Manzanares some wagtails, more magpies, and black redstart.
And I was astonished when I got to the treatment plant of La China. A kingfisher flew from my bank to the opposite one. It is the first time I see a kingfisher so much in the center in the city.
http://birdingmanzanares.blogspot.com.es/